Nobel Prize in Chemistry 2003
Peter Agre and Roderick MacKinnon
for discoveries concerning channels in cell membranes jointly with one half to Peter Agre for the discovery of water channels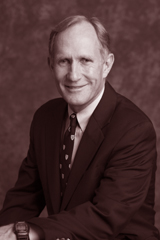 Peter Agre
US citizen. Born 30 January 1949
Agre received a BA from Augsberg College in Minneapolis and began medical studies at Johns Hopkins in 1970, being awarded an MD in 1974. From 1975 to 1978 he did his clinical training at Case Western University Hospitals of Cleveland. He accepted a clinical fellowship in hematology and oncology at the nearby University of North Carolina. He returned to Johns Hopkins, Baltimore in 1981 to pursue biomedical research and has held a faculty position in the Department of Biological Chemistry ever since. Promotion to full professor came in 1993.
In 1991 he was awarded the Young Investigator Award from the Eastern Section of the American Federation of Clinical Research, in 2000 he was elected to membership of the National Academy of Sciences and in 2003 to the American Academy of Arts and Sciences.
The information on this page is based on content at Nobelprize.org © The Nobel Foundation. Image from the Nobel Prize website.

---
Search for papers by Agre, P. in
Crystallography Journals Online
|
Google Scholar
|
Pubmed
|
Scirus