Nobel Prize in Physics 1917
Charles Glover Barkla
for his discovery of the characteristic Röntgen radiation of the elements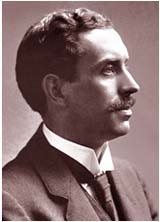 Charles Glover Barkla
UK citizen. Born 1877 in Widnes, UK, died 1944, Edinburgh, UK
Charles Glover Barkla was born on June 7, 1877 at Widnes, Lancashire, England, where his father, J. M. Barkla, was Secretary to the Atlas Chemical Company. He was educated at the Liverpool Institute and entered University College, Liverpool, in 1894 to study mathematics and physics, the latter under Oliver Lodge. He graduated with First Class Honours in physics in 1898 and in the following year he obtained his master's degree. Also in 1899, he was awarded a research scholarship by the Royal Commissioners for the Exhibition of 1851 and he proceeded to Trinity College, Cambridge, to work in the Cavendish Laboratory with J. J. Thomson. He migrated to King's College during 1900 and in 1902 returned to Liverpool as Oliver Lodge Fellow. From 1905 to 1909 he was successively demonstrator, assistant lecturer in physics and special lecturer in advanced electricity at the University, and in 1909 he succeeded H. A. Wilson as Wheatstone Professor of Physics in the University of London. In 1913, Barkla accepted the Chair in Natural Philosophy in the University of Edinburgh and he held this position until his death.
Barkla, a Fellow of the Royal Society, had several honorary degrees. He was appointed Bakerian Lecturer (Royal Society) in 1916 and he was awarded the Hughes Medal in the following year.

The information on this page is based on content at Nobelprize.org © The Nobel Foundation and www.biophysics.liv.ac.uk/X-rays_Liverpool.html.
---
Search for papers by Barkla, C. G. in
Google Scholar
|
Scirus