Nobel Prize in Physics 1994
Bertram N. Brockhouse and Clifford G. Shull
for pioneering contributions to the development of neutron scattering techniques for studies of condensed matter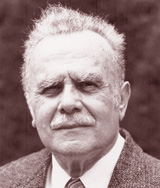 Bertram N. Brockhouse
Canadian citizen. Born 1918 in Alberta, Canada, died 2003
Bertram Neville Brockhouse was born on 15 July 1918 in Lethbridge, Alberta. After serving in the Royal Canadian Navy during World War II he graduated with a BA in mathematics and physics in 1947 from the University of British Columbia. He gained an MA in 1948 and a PhD in 1950 from the University of Toronto, with a thesis entitled 'The Effect of Stress and Temperature upon the Magnetic Properties of Ferromagnetic Materials'.
In July 1950 Brockhouse joined the staff of the Atomic Energy Project of the National Research Council of Canada, later to become Atomic Energy of Canada Limited (AECL), at the Chalk River Nuclear Laboratories about 130 miles northwest of Ottawa. It was during this period that Brockhouse carried out the work that led to the award of the Nobel Prize.

In the late fifties and early sixties scientists from a number of countries visited Chalk River in order to observe and learn the new "Methods for Neutron Spectrometry". By all accounts it was an exciting time and Chalk River staff members who knew none of the details of what was happening in the field were aware of the importance of the neutron scattering experiments at the reactor. Brockhouse became head of the newly formed Neutron Physics Branch in 1960. A.D.B. Woods, who collaborated with Brockhouse on many occasions, had joined the neutron scattering group two years previously, and G. Dolling arrived in 1961.
In 1962 Brockhouse took up the position of Professor of Physics at McMaster University where he remained until his retirement in 1984. He was chairman of the Department from 1967 to 1970.

Professor Brockhouse was a recipient of the Tory Medal (Royal Society of Canada), the Buckley Prize (American Physical Society), the Duddell Medal and Prize (British Institute of Physics and Physical Society) and the Centennial Medal of Canada. He was a Fellow of the Royal Society of Canada and the Royal Society of London.

A detailed obituary was published in the IUCr Newsletter Vol. 11 No. 4 (2003).
The information on this page is based on content at Nobelprize.org © The Nobel Foundation and Bertram Brockhouse's page at McMaster.
---
Search for papers by Brockhouse, B.N. in
Crystallography Journals Online
|
Google Scholar
|
Pubmed
|
Scirus