Crystallography around the world: Albania
National associations or societies
Albania and Kosovo
Category I
Adhering Body
Ivodent Academy
Secretary of National Committee
D. KARAJ
Faculty of Mathematical Engineering and Physical Engineering - PUT, "Muhamet Gjollesha", No.6, Tirana, Albania
National Committee
B. Dida (Chair of Association)
D. Siliqi (Honorary Chair)
F. Aliaj (Co-Chair Kosovo)
A. Hasimi
A. Mele (Co-Chair Albania)
A. Gjevori
A. Memo
A. Korpa
A. Reka
B. Papajani
D. Karaj
E. Nocka
E. Qeriqi
I. Vozga
N. Syla
M. Pacarizi
S. Abazi
V. Kasemi
K. Peqini
The following crystallographers in Albania are registered in the World Directory of Crystallographers.
26 entries found
All events
This is a concise listing of all events in this country that are associated with the International Year of Crystallography 2014 and its follow-up initiatives.
This Special Report was published in the IUCr Newsletter, Vol. 19, No. 4 (2011).
Crystallography in Albania
The Republic of Albania, in South-Eastern Europe, is poor by Western European standards. After 1990, resources devoted to sciences and technology were drastically decreased and approximately 40% of those with scientific training have emigrated. Expenditure for scientific Research and Development (R&D) is 0.2% of the GDP, few goods are exported and technological development is limited.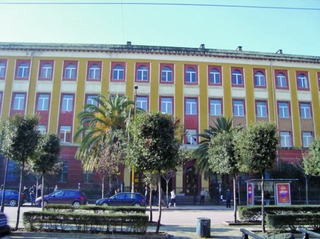 Faculty of Natural Sciences, Tirana, Albania.
In 2009 the Government initiated 'National Strategy for Science, Technology and Innovation in Albania', coordinated by a Dept. of the Prime Minister's Cabinet, and the Ministry of Education and Science with assistance from UNESCO. The goals of the plan are: to triple public spending on R&D; to create and equip four or five Albanian centers of excellence in science; to double the number of researchers through 'brain gain' incentives and training of new researchers via new doctoral programmes in Albanian universities; and to stimulate innovation in 100 companies via consortia with academic research institutes or foreign partners. The Strategy is to be implemented in synergy with the planned development of energy, agriculture, natural resources, public health services and communication technologies (ICTs).
| | |
| --- | --- |
| | |
| 'Mineralism Gallery' by Enkeleida Beqiraj Goga, Faculty of Geology and Mining, Dept. of Earth Sciences, Tirana, Albania (May, 2009). | Presentation of the monograph 'Cryst-Art' by Enkeleida Beqiraj Goga, Faculty of Geology and Mining, Dept. of Earth Sciences, Tirana, Albania (May, 2007). |
Crystallography is taught at the U. of Tirana (UT, www.unitir.edu.al) and the Polytechnic U. of Tirana (UPT, www.upt.al), but the only crystallographic research is theoretical work in the Chemistry and Physics departments.
In Albania, Crystallography is primarily part of the Geology Faculty. A. Sinojmeri heads the Crystallography - Mineralogy and Petrography Research Group and is engaged in 'Mineralism Gallery' and 'Cryst-Art' projects, funded by Albanian Mobile Communication (AMC).
A project on zeolite effects on soil properties and fertility is financed by the Polytechnic U. of Tirana, and one on analysis of water quality in rural Albania is financed by the Academy of Sciences of Albania.
In the Chemistry Dept., E. Andoni (eduard.andoni@unitir.edu.al) conducts powder diffractometry on organometallic compounds and chalcogenide halides with layered and spinel structures.
In the Physics Dept., T. Dilo (teuta.dilo@unitir.edu.al) offers an MA programme in 'The Physical and Chemical Structure of Materials' including a module on X-ray diffraction.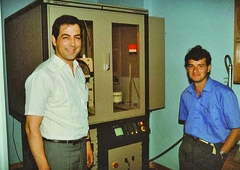 Kastriot Spahiu (left) with Dritan Siliqi. The set-up of the Seifert Diffractometer at X-ray Laboratory (June 1990), Dept. of Chemistry, Fac. of Natural Sciences, Tirana, Albania.
In partnership with Inst. für Werkstoffwissenschaft, Technische U. Bergakademie Freiberg, efforts are underway to expand research in crystallography. At present there are no neutron, electron or functioning X-ray facilities in Albania. During the 1990s, the Laboratory of X-ray Diffraction sponsored by UNESCO in the Chemistry Dept. of the U. of Tirana was equipped with a Seifert X-ray powder diffractometer. Due to inadequate maintainance the measurements are not always reliable.
W. Depmeier of the Executive Committee of the European Crystallographic Association and D. Siliqi (Bari, Italy) are engaged in efforts to create a National Crystallography Association in Albania, to strengthen the scientific infrastructure in the country, foster collaborations with crystallographers outside Albania and help Albanian scientists to gain access to neutron/electron and X-ray facilities elsewhere.
Organizations critical to the development of crystallography and science in Albania include: Albania Acad. of Science, Sheshi 'Fan Noli' 7, Tirane, Albania (G. Beqiraj and S.Bushati), Ministry of Education and Science, Rr: 'Rruga e Durrësit' 23, Tirane, Albania, (M. Tafaj, A. Gjonaj, H. Shamata), Tirana U., Sheshi 'Nënë Tereza', Tirane, Albania (D. Kule, E. Demo), Faculty of Natural Science, Bulevardi 'Dëshmorët E Kombit', Tirane, Albania (X. Teliti, E. Andoni,, M. Koni, A. Mema), Polytechnic U. of Tirana, Sheshi 'Nënë Tereza' 4, Tirane, Albania (J. Kacani, F. Premti), Geology and Mining Faculty (P. Hoxha, E. B. Goga), Inst. of Geosciences (I. Milushi).
Dritan Siliqi (dritan.siliqi@ic.cnr.it)