Crystallography around the world: Austria
Austria
Category I
Adhering Body
Österreichische Akademie der Wissenschaften
Secretary of National Committee
K. HRADIL
, X-ray Center, Vienna University of Technology, Getreidemarkt 9, 1060 Vienna, Austria
National Committee
C. KRATKY (Chair)
F. BELAJ
H. BRANDSTETTER
K. DJINOVIC-CARUGO
U. GRIESSER
V. KAHLENBERG
R. MILETICH-PAWLICZEK
O. PARIS
G. REDHAMMER
K. SCHWARZ
J. STANGL
M. WEIL
This information last updated: 15 Oct 2021
The following crystallographers in Austria are registered in the World Directory of Crystallographers.
125 entries found
Reports of past activities in Austria
All events
This is a concise listing of all events in this country that are associated with the International Year of Crystallography 2014 and its follow-up initiatives.
16th Jan 2014
Führung für KindergartenpädagogInnen und LehrerInnen Vienna
16th Jan 2014
Workshop für LehrerInnen: "Was steckt im Handy?" Vienna
4th Apr 2014
Lange Nacht der Forschung Linz
4th Apr 2014
Lange Nacht der Forschung Innsbruck
4th Apr 2014
Lange Nacht der Forschung Wien
4th Apr 2014
Kristalle - Aesthetik und Anwendung Vienna
14th May 2014
"Kristalle : die Erforschung ihrer Eigenschaften im Wandel der Zeit" Vienna
21st May 2014
Kristalle - Kunstwerke der Natur St. Poelten (Niederoesterreichische Landesbibliothek)
28th May 2014
"Die Genese von Großlagerstätten in Raum und Zeit" Vienna
18th Jun 2014
Aus der Mineraliensammlung des Krahuletz-Museum in Eggenburg: Neufunde – Neuerwerbungen – Schätze der Studiensammlung Eggenburg
23rd Jul 2014
Farbe Einmal Anders: Photonische Kristalle In Natur Und Forschung Vienna
8th Sep 2014
IYCr2014@Innsbruck - symposium and exhibition celebrating 100 years of crystallography - Focus Structural Biology Center for Chemistry and Biomedicine (CCB), Innrain 80-82, A-6020 Innsbruck
18th Sep 2014
KRISTALLE @ Leoben Leoben
22nd Sep 2014
Honouring Felix Machatschki in Arnfels Arnfels
30th Sep 2014
Kristalle @Ebensee Ebensee
1st Oct 2014
KRISTALLE @ Gmunden Gmunden
4th Oct 2014
KRISTALLE @ Lange Nacht der Museen Vienna
4th Oct 2014
KRISTALLE @ Vienna
7th Oct 2014
KRISTALLE @ Deutschkreutz Deutschkreutz
8th Oct 2014
"Metall-organische Gerüstverbindungen - die wunderbare Welt poröser Kristalle!" Vienna
22nd Oct 2014
KRISTALLE @ Schattendorf Schattendorf
22nd Oct 2014
"Kristallphänomene in der Arzneimittelentwicklung" Vienna
4th Nov 2014
KRISTALLE @ Klagenfurt Klagenfurt
12th Nov 2014
Katzengold und Silberfisch Vienna
14th Nov 2014
KRISTALLE @ Neumarkt/Wallersee Neumarkt am Wallersee
20th Nov 2014
KRISTALLE @ Frauenkirchen Frauenkirchen
28th Nov 2014
KRISTALLE @ Rum Rum
5th Dec 2014
Starting event of "Crystallography at Elementary School" Brunn am Gebirge
11th Dec 2014
KRISTALLE @ Kittsee Kittsee
17th Dec 2014
KRISTALLE @ Bregenz Bregenz
26th Jan 2015
Lecture on the activities for IYCr2014 in Austria Vienna
28th Feb 2015
Wissen schafft Kunst / Art of Science Vienna
28th May 2015
33 Objects for the I-Quarter Moedling
29th May 2015
You are the salt of the earth Vienna
1st Jun 2015
Crystallography, philately and a review on IYCr Vienna
24th Feb 2016
Largest crystal structure model - "Finissage" Vienna
Wearable Crystallography Vienna New: "Crystal-Ties" with patterns inspired by nature
Robert Krickl's crystallography outreach activities Personal contributions to IYCr
Austrian stamp celebrating the "World's largest crystal structure" Vienna A personalized stamp and special envelopes are released on the occasion of the completion of the largest crystal structure model in the world, celebrating the Centennial of Braggs' Nobel Prize.
Führungen und Workshops für Vorschulgruppen und Schulklassen Vienna A series of events and workshops for pre-school groups and school classes at the Natural History Museum in Vienna is designed to start raising awareness and draw attention to the important role that crystals play in many areas of modern life.
Austrian commemorative stamp issue

A personalized stamp is released to celebrate IYCr2014 and to honour the renowned Austrian mineralogist and crystallographer Felix Machatschki (1895-1970).

Brochure "Kristallographie in Österreich" brochure (German only) about crystallography and crystallographic activities in Austria. Broschüre über Kristallographie und kristallographische Aktivitäten in Österreich
This extract from 50 Years of X-ray Diffraction, edited by P. P. Ewald and published in 1962, recounts the early development of crystallography in this region.
Austria
The first serious attempt at establishing structure analysis seems to have been made by Prof. Fr. Raaz of the Department of Mineralogy of the University in Vienna. Raaz had been studying the subject with Rinne and Schiebold in Leipzig and used Seemann equipment in 1929. Before that, from 1927 onwards, F. Halla and M. C. Neuburger used the powder method for studying metal oxides, alloys, and the lattice constants of metals at the Department for Physical and Inorganic Chemistry of the Technical University in Vienna. A considerable amount of work on light and X-ray scattering was done at the First Chemical Institute of the University of Vienna while H. Mark had the chair there (1932-38) in connection with the nature of liquids and of high-polymers. The mineralogical department, now under Prof. F. Machatschki, and the chemical department of the university are still the centres of Austrian structure analysis. O. Kratky in Graz together with G. Porod devoted much work to the technique and interpretation of small-angle scattering by colloids and high-polymers. The main industrial laboratory using X-ray diffraction is that of the Planseewerke in Reuthe which specialize in powder metallurgy.
---
First published for the International Union of Crystallography 1962 by N.V.A. Oosthoek's Uitgeversmaatschappij, Utrecht, The Netherlands
Digitised 1999 for the IUCr XVIII Congress, Glasgow, Scotland
© 1962, 1999 International Union of Crystallography
Photographic record of crystallographic activities in Austria
The complete IUCr photographic archive includes thousands of photographs. Here we include a collection illustrating activities in this country. This image is selected randomly from the galleries listed below (European Crystallography Meeting, 1988).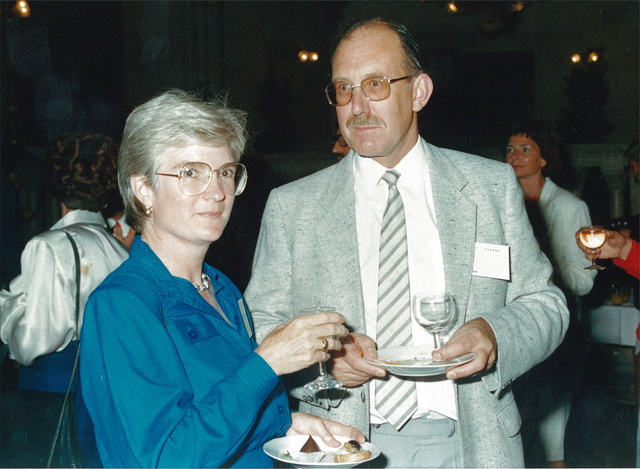 Jim King on the right.