Crystallography around the world: Costa Rica
Costa Rica
Category I
Adhering Body
Centro Nacional de Alta Tecnologia (CeNAT) [subject to confirmation by General Assembly; formerly Union Costarricense de Cristalografos UCCr]
Secretary of National Committee
A.M. ARAYA SIBAJA
, Chemistry, University of Costa Rica, San Pedro de Montes de Oca, San Jose, 2060, Costa Rica
National Committee
J.R. VEGA BAUDRIT (Chair; UNA and LANOTEC)
E. JIMENEZ ALVARADO (UCR)
A.M. ARAYA SIBAJA (UCR)
R. ARGUEDAS RODRIGUEZ (CENIBIOT)
D. VALVERDE BARQUERO (UNED)
J. CALDERON CASTRO (UCR)
M. CAMACHO ELIZONSO (LANOTEC)
R. COY HERRERA (TEC)
M. ESQUIVEL ALFARO (UNA)
R. GONZALEZ PAZ (LANOTEC)
R. HERNANDEZ CHAVERRI (UNED)
G. JIMENEZ VILLALTA (UNA)
S. MADRIGAL CARBALLO (UNA and CENIBIOT)
V. MONTERO CAMPOS (ITCR)
S. NIKOLAEVA (UNA)
G. PIEDRA MARIN (UNA and UNED)
G. PORRAS BRENES (CENIBIOT)
C. REDONDO (LANOTEC)
G. MADRIGAL REDONDO (UCR)
O. ROJAS CARRILLO (UNA)
J. SAAVEDRA (UNA)
G. SAENZ ARCE (UNA)
V.H. SOTO TELLINI (UCR)
R. VEGAS ZUNIGA (UCR)
This information last updated: 15 Oct 2021
The following crystallographers in Costa Rica are registered in the World Directory of Crystallographers.
42 entries found
Reports of past activities in Costa Rica
All events
This is a concise listing of all events in this country that are associated with the International Year of Crystallography 2014 and its follow-up initiatives.
First School of Crystallization and Polymorphism
Costa Rica, January 2014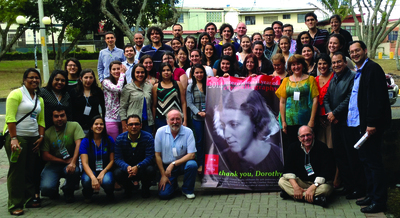 Participants at the first School of Crystallization and Polymorphism.
With the support of the IUCr, the First School of Crystallization and Polymorphism was held at the University of Costa Rica (UCR) in San José de Costa Rica, January 27-31, 2014. The school was organized by G. Madrigal (UCR) and A. Araya (UCR). The School attracted 52 participants from universities and companies from Costa Rica, Panama, Guatemala and Mexico. The international team of lecturers was composed of S. Cuffini (SC), U. Federal de São Paulo of Brazil, A. Moreno (AM), U. Nacional Autónoma de México, J. Bernstein (JB), Ben-Gurion U. (Israel) and NY U. (Abu Dhabi), and J. Manuel García-Ruiz (JMGR), U. de Granada (Spain).
The School opened with a presentation on the International Year of Crystallography and an overview of the importance of crystals in science, technology and art (JMGR). The second day covered the fundamentals of nucleation, crystal growth and crystal morphology (JMGR) and the basic aspects of polymorphism and case studies that illustrated the importance of crystal forms in the pharmaceutical industry (JB). The third day was devoted to the technical aspects of crystallization, including proteins (AM), polymorphs and co-crystals (SC), and to solid-state characterization techniques (SC). Thursday covered combined lectures and hands-on demonstrations of crystallization techniques (JMGR, AM), with lectures on the thermodynamics of polymorphism, enantiotropism and monotropism (JB). The last day of lectures was on the legal aspects of polymorphism (JB), methods of preparation of novel crystal forms and habits (SC) and (AM), and analysis of the experiments performed the previous day (AM, JMGR). The closing session featured a colloquium following the public screening of the movie 'The mystery of the giant crystals'.
This successful school, the first ever organized in Central America, was facilitated by the sponsorship of INIFAR, LABIOFAR, INBOX (PANalytical), the U. of Costa Rica and IUCr.
Juanma Garcia-Ruiz and Joel Bernstein
Photographic record of crystallographic activities in Costa Rica
The complete IUCr photographic archive includes thousands of photographs. Here we include a collection illustrating activities in this country. This image is selected randomly from the galleries listed below (Costa Rica School of Crystallization and Polymorphism, 2014).