Crystallography around the world: Denmark
Denmark
National Committee for Crystallography home page
Category I
Adhering Body
Royal Danish Academy of Sciences and Letters
Secretary of National Committee
A.Ø. MADSEN
, Department of Chemistry, University of Copenhagen, Universitetsparken 5, Copenhagen, DK-2100, Denmark
National Committee
K. MORTENSEN (Chair)
A.D. BOND
R.K. FEIDENHANS'L
K. FRYDENVANG
A. HORSEWELL
J.S. PEDERSEN
K. STÅHL
T.B. ZUNIC
This information last updated: 12 Nov 2012
The following crystallographers in Denmark are registered in the World Directory of Crystallographers.
142 entries found
All events
This is a concise listing of all events in this country that are associated with the International Year of Crystallography 2014 and its follow-up initiatives.
This extract from 50 Years of X-ray Diffraction, edited by P. P. Ewald and published in 1962, recounts the early development of crystallography in this region.
CHAPTER 22
Scandinavia
by G. Hägg*
Denmark
Denmark was the last Scandinavian country to take up extensive X-ray analysis of crystals. Pioneer work in the twenties by the Dutch physicist J. R. Katz on high polymers, notably his discovery of the 'crystallization' of rubber on stretching, was not continued, nor was the work by the mineralogist H. Clausen (a student of Goldschmidt and of Aminoff) on fluoride minerals. Almost all subsequent research has been done by chemists. In pure chemistry, powder method phase identifications on calcifications, minerals, ammonia catalysts and drugs in forensic medicine have been published. Only one worker was doing crystal structure work at the end of World War II, but lately the subject has been gaining momentum, though much is at a preliminary stage. At the Royal Veterinary and Agricultural College, A. Tovborg Jensen (a student of W. L. Bragg and of Hägg) has done structure work on salt hydrates, and C. Knakkergaard Møller has investigated double halides. At the Royal Danish School of Pharmacy, Bodil Jerslev (a student of Hägg and of Dorothy Hodgkin) has studied oximes. Four chairs in chemistry are now occupied by X-ray crystallographers and an expansion of research in the field may be anticipated.
---
* The reviews on Denmark, Finland and Norway are based on material kindly supplied by Professor A. Tovborg Jensen, Professor M. Kantola and Dr. H. Viervoll respectively. In addition I gratefully acknowledge the assistance of Professor A. Westgren in acquiring data for the review on Sweden.
---
First published for the International Union of Crystallography 1962 by N.V.A. Oosthoek's Uitgeversmaatschappij, Utrecht, The Netherlands
Digitised 1999 for the IUCr XVIII Congress, Glasgow, Scotland
© 1962, 1999 International Union of Crystallography
Photographic record of crystallographic activities in Denmark
The complete IUCr photographic archive includes thousands of photographs. Here we include a collection illustrating activities in this country. This image is selected randomly from the galleries listed below (NATO School on Experimental Aspects of X-ray and Neutron Diffraction, 1972).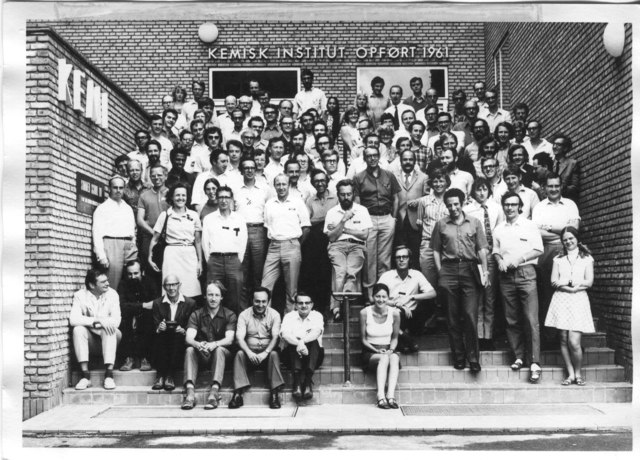 Participants at the NATO Advanced Study Institute on the Experimental Aspects of X-ray and Neutron Diffraction, Aarhus University, Aarhus, Denmark, 31 July-11 August, 1972. A separate identification key is available. The legend gives the following names: 1 H. Arnold, 2 Hans Bartl, 3 Jim Speakman, 4 Stuart Pawley, 5 J. Amigo, 6 Svend Erik Rasmussen, 7 Charlotte Kallesøe, 8 J. de Boer, 9 Kirsten Petersen, 10 K. F. Fischer, 11 W. Schäfer, 12 A. Faruqui, 13 Camden Hubbard, 14 E. Prince, 15 Britta Lundtoft, 16 Olliver Lindqvist, 17 Dirk Feil, 18 Fred Ross, 19 B. Deppisch, 20 Axel Nørlund Christensen, 21 Kirsten Streib, 22 Robert Thomas, 23 Uli Arndt, 24 K. Tebbe, 25 Karl Peder Larsen, 26 Lars Kryger, 27 Bill Streib, 25 Helen Berman, 29 Hans Leopold, 3 0 Walter Graeff, 31 Raul Mariezcurrena, 32 Peter Seidel, 33 A. Gieren, 34 Uri Shmueli, 35 Jens Nyborg, 36 John Metcalf, 37 Alex Mehlsen-Sørensen, 38 Frank Pedersen, 39 L. Leiserowich, 40 Jacob Danielsen, 41 Niels Thorup, 42 H. Mez, 43 B. Faught, 44 L. Golic, 45 John Reid, 46 Louis Delbaere, 47 Asbjørn Hordvik, 48 Ray Young, 49 Finn Krebs Larsen, 50 Alan Hazell, 51 Paul Beurskens, 52 Claes Stålhandske, 53 David Watkin, 54 Sax Mason, 55 M. Colapietro, 56 A. Albinati, 57 Nomy Ponce, 58 H. Rietveld, 59 Fred Kundell, 60 M. Stringfellow, 61 Rita Hazell, 62 Marianne Mortensen, 63 Sofokles Filippakis, 64 David Gilmore, 65 Karen Kaas, 66 J. Lamotte, 67 M. Agostinelli, 68 M. Webster, 69 M. Bonnet, 70 F. A. Schroder, 71 P. Sgarabotto, 72 Philip Coppens, 73 Henk Schenk, 74 A. Duisenberg, 75 K. Fleischman, 76 P. Becker, 77 Bernt Klewe, 78 Stig Aleby, 79 Richard Thornley, 80 Arne Andresen, 81 Jim Edmonds, 82 Walter Hamilton, 83 Bruno Lundberg, 84 Rolf Norrestam, 85 Richard Nelmes, 86 Bruce Forsyth, 87 P. Scarbrough, 88 Tom Koetzle, 89 Stig Åsbrink, 90 Galen Lenhert, 91 Keith Rouse, 92 R. de Graaff, 93 Terry Willis, 96 Ivar Olovsson, 95 Jorun Sletten, 96 Jan-Olof Lundgren, 97 Sine Larsen.
Photo galleries