Crystallography around the world: Greece
National associations or societies
Greece
Hellenic Crystallographic Association web page
Category I
Adhering Body
Hellenic Crystallographic Association
Secretary of National Committee
V. ICONOMIDOU
, Physics Laboratory, Biotechnology Department, Agricultural University of Athens, 75 Iera Odos, Athens 118 55, Greece
National Committee
K. BETHANIS (Chair)
P. GIASTAS (Vice-Chair)
V. ICONOMIDOU
A. PAPAKYRIAKOU
M. ZERVOU
This information last updated: 28 Sep 2020
The following crystallographers in Greece are registered in the World Directory of Crystallographers.
85 entries found
Reports of past activities in Greece
All events
This is a concise listing of all events in this country that are associated with the International Year of Crystallography 2014 and its follow-up initiatives.
This Special Report was published in the IUCr Newsletter, Vol. 19, No. 4 (2011).
Crystallography in Greece
Molecular structure determination started in the late 60's in Greece, but crystallography related to mineralogy and powder diffraction was practiced long ago. I. Mitsopoulos was the first professor of Mineralogy and Petrology at U. of Athens in 1845 when Greece was established as a free state. A Mineralogy and Petrology Museum, established at the Natural History Society in Athens in 1835, was acquired by the U. in 1837. In 1940, a Mineralogy and Crystallography professorship was established (P. Kokoros) at the U. of Thessaloniki, and in 1968 P. Rentzeperis created a molecular structure determination laboratory and installed the first four-circle diffractometer in the Dept of Physics, the only one in Greece. In the late 70s, when I returned from Michigan State U. and started molecular structure studies in NCSR Demokritos, Athens, I had to collect data abroad. NCSR Demokritos acquired a single-crystal diffractometer in 1979 and the first facility for macromolecular crystallography in 1997. The same year a similar facility was established in the Foundation of Research and Technology (FORTH) in Crete. Today most universities and research institutions in Greece have groups pursuing molecular structure determination by crystallography. The European synchrotron facilities have advanced capabilities of Greece's crystallographic community. The Hellenic Crystallographic Association (HeCrA, www.hecra.gr) was established in 2001 to promote crystallography, raise scientific, public and political awareness, and train young researchers. Through HeCrA, Greece has joined IUCr and ECA. HeCrA organizes interdisciplinary conferences and workshops with international participation every two years.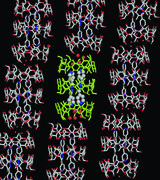 Channels of novel βCD trimers enclosing a cluster of a 4-pyridinealdazine dimer and several water molecules.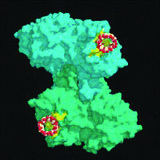 Gamma-cyclodextrin bound to the glycogen storage site of the glycogen phosphorylase
b
dimer.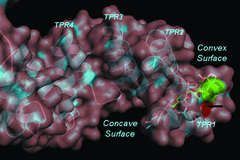 The TPR domain of Ssn6: the concave surface is responsible for the formation of the Ssn6-Tup1 transcriptional repressor.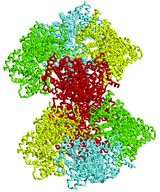 The octamer of glycogen phosphorylase
b
in the R (active) conformation.
Crystallographic research started in NCSR Demokritos, Athens (www.demokritos.gr) in the Inst. of Materials Science, where S. E. Filippakis, A. Hountas and M. Calamiotou were studying dynamical X-ray diffraction. Presently, the team of A. Terzis, C. P. Raptopoulou and V. P. Psycharis focuses on small molecule crystallography and structure determination by the Rietveld Method. In the Inst. of Physical Chemistry, Irene M. Mavridis (Moustakali-Mavridis), although trained in macromolecular crystallography, has worked on the structures of Schiff bases with photochromic and thermochromic properties, crystal engineering aspects of guest influence on the packing of cyclodextrin inclusion complexes and chemical modifications of these cyclic carbohydrates in collaboration with K. Yannakopoulou (http://lssc.chem.demokritos.gr/). There was a resurgence of protein crystallography after the macromolecular data collection facility was installed in Demokritos (with participation of graduate students N. Pinotsis, P. Giastas and S. D. Chatziefthymiou). Collaborations were developed with the late N. Oikonomakos (glycogen phosphorylase b - cyclodextrins complexes, 2003), M. Willmans (giant muscle protein titin, 2006) and J.-M. Moulis and P. Kyritsis (structures of ferredoxins containing two 4Fe-4S clusters, 2006 and 2009). The appointment of E. Saridakis and collaboration with N. Chayen's group at Imperial College, London, has fostered the development of methodologies for macromolecular crystallization. In the Inst. of Biology (http://bio.demokritos.gr/), M. Vlassi is combining molecular modeling with biophysical and biochemical methods to the study of repeat containing proteins, i.e. the TPR-containing Ssn6 and the BRCT-containing BRCA1 to unravel the role of the structural stability of these modules as parts of multiprotein complexes. Techniques such as homology modeling, threading, molecular docking and molecular dynamics (MD) simulations are being applied to enzymes of medical importance and structure-based drug design. The group has recently developed a bioinformatics tool (program package Gromita, a GUI to Gromacs 4, [D. Sellis et al., Bioinformatics and Biology Insights, 3, 99, 2009]) for MD simulations of proteins and their complexes in water.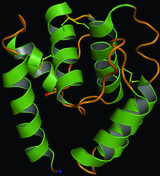 The TPR domain of Ssn6: the concave surface is responsible for the formation of the Ssn6-Tup1 transcriptional repressor.
Crystallography at the National Hellenic Research Foundation, Athens (NHRF, www.eie.gr/index-en.html) started when in 1983 the late N. G. Oikonomakos established a collaboration with L. Johnson (U. of Oxford) to study glycogen phosphorylase b, a target for structure-based drug design that attracted funding from pharmaceutical companies. The NHRF laboratory is equipped for protein expression, purification, crystallization, biochemical characterization and structural studies of mechanisms of catalysis, inhibition, regulation and molecular recognition of enzymes. A third X-ray macromolecular data collection facility has been installed now and serves researchers in the group of S. E. Zographos and E. D. Chrysina, who pursue independent research at NHRF and elsewhere in Greece. Zographos investigates the mosquito's Olfactory Binding Proteins to design antimalarials, and enzymes that control glucose and nucleotide homeostasis in mammals. Chrysina works on glycogen phosphorylase isoenzymes related to type 2 diabetes and hydrolases (xylanases, feruloyl acid and other esterases) that play key roles in degradation of plant biomass and neurodegenerative disorders.
Protein crystallography at the Hellenic Pasteur Institute, Athens (www.pasteur.gr/205/2387.aspx) is focused on monoclonal antibodies to nicotinic acetylcholine receptors (nAChR). The structure of Fab192 and Fab198 against the main immunogenic region of the nACh, determined by S. Tzartos in collaboration with E. Eliopoulos, D. Leonidas and the late N. Oikonomakos, has therapeutic potential. Structural studies of extracellular domains of human muscle and neuronal nAChR subunits (P. Giastas and K. Poulas) are being combined with NMR and bioinformatics investigations of the Dept. of Pharmacy of the U. of Patras (K. Poulas and G. Spyroulias).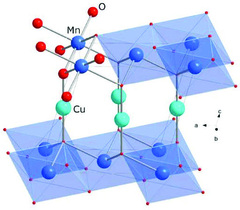 Symmetry breaking in frustrated antiferromagnets [Cu(Na)MnO
2
] lifts the ground-state degeneracy [
Phys. Rev. Lett.
,
99
, 247211, 2007].
In the Solid State Physics Dept of the U. of Athens (www.phys.uoa.gr), M. Calamiotou organized the X-Ray Diffraction Laboratory which is equipped with single-crystal and powder diffractometers. Crystal defects and lattice strain in semiconductor heterostuctures (GaAs/Si, LTGAs/GaAs, AlGaN/GaN, ZnSe/GaAs) are studied in collaboration with the MBE group of the U. Crete as well as strain effects in piezoelectric-photorefractive materials and phase separation in high-Tc superconducting materials induced by doping. Part of the research employs the ESRF synchrotron facilities for area diffractometry, high-resolution powder diffraction and powder diffraction at non-ambient conditions. At the Faculty of Biology, U. of Athens, S. Hamodrakas (http://biophysics.biol.uoa.gr ) leads the Biophysics and Bioinformatics Laboratory and studies insect and fish chorion (eggshell), arthropod cuticle, membrane and globular protein structures, self-assembly of amyloids, prediction of protein structure, function and interactions, and development of relational protein databases.
Since 1978, D. Mentzafos of the Science Dept. at the Agricultural U. of Athens (www.aua.gr/index.php) is investigating cyclodextrin inclusion complexes with plant-growth regulators, non-hormonal weed killers and antioxidant oils as guests molecules. A. Hountas and K. Bethanis collaborate with G. Tsoucaris (CNRS, France) developing algorithms (Twin Variables and Determinants) for solving the phase problem using the Schrödinger equation in momentum space. In the Biotechnology Dept., E. Eliopoulos (www.aua.gr/tmhmata/biologia/eliop/index.htm/) develops computational methods for the analysis of protein folding and interactions, ab initio and homology protein modeling for medical applications (i.e. Mediterranean fever, rheumatoid arthritis), analysis of Fabs and restriction enzymes (with the U. of Crete) and ligand design of odorants, insect repellents and enzyme inhibitors.
In the Laboratory of Applied Physics of the U. of Thessaloniki, founded in 1968 by P. Rentzeperis (www.physics.auth.gr/en/section/index/5), D. Kavounis, G. Stergioudis, G. Voutsas and A. Mpozopoulos work on: (a) the structures and properties of inorganic (semiconductors of Tl and Sb, metal alloys of Ti, alloys of Wo, and Copper-genides and Copper-alogenides of As) organic and organometallic compounds of pharmaceutical importance; (b) the effect of composition and manufacturing conditions on industrial materials (rechargeable batteries, catalysts, plastics and thin film semiconductors); (c) electronic density in crystals; and (d) the effect of preferred orientation on diffraction from powder.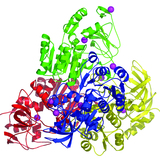 Tetramer of alcohol dehydrogenase from the antarctic psychrophile
Moraxella
TAE 123.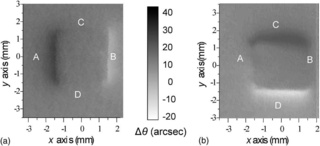 Light-induced distortions in Fe:LiNbO
3
studied with synchrotron area diffractometry [
JAP
,
102
, 083527, 2007].
In the late 80s, M. Kokkinidis and K. Petratos started a crystallographic laboratory in the U. of Crete and the Inst. of Molecular Biology and Biotechnology in Crete (www.imbb.forth.gr/protein_structure-function.html). Kokkinidis' laboratory elucidates structure-function relationships of proteins and protein complexes for specific biotechnology biomedical applications. Petratos is engaged in studies of: (a) the catalytic mechanism for chitinase A based on complexes with substrate analogues and inhibitors; (b) the motor ATPase component of a pre-protein Sec translocase complex; and (c) a ribosome-inactivating protein from the Mediterranean plant Charybdis maritima. The most recent projects involve antibiotic resistance, disulfide bond formation at the inter-membrane space of mitochondria and naturally occurring antibiotic peptides. In the Inst. of Electronic Structure and Lasers (FORTH), A. Lappas (Materials Physics Laboratory, http://fun.iesl.forth.gr) examines solid-state materials which display strong electronic correlations between spin, charge and lattice. They synthesize model compounds (from oxides and their nanocrystals to molecular solids) and study their electronic and magnetic behaviour. They uncover relationships between the microscopic structure and macroscopic properties that exploit novel quantum mechanical phenomena for the development of magnets, superconductors, multiferroics, electronics or photonics. In-house experimental methods (e.g. SQUID magnetometry and powder XRD) are complemented with data from large-scale neutron, synchrotron and muon facilities to advance understanding of structure-reactivity of solids at the atomic scale.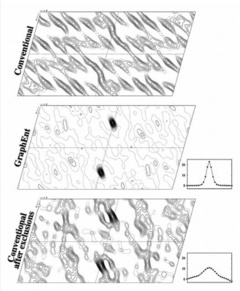 Maximum entropy versus conventional Harker sections of an anomalous Patterson function of a myoglobin crystal.
N. M. Glykos' group (www.mbg.duth.gr/~glykos/) at the Democritus U. of Thrace focuses on crystallographic computing methods including: (a) the multidimensional molecular replacement program Queen of Spades which led to the structure determination of a small protein using a 23-dimensional search (the highest dimensionality molecular replacement search reported to date); (b) maximum entropy methods for calculation of crystallographic maps with the program GraphEnt; and (c) a teaching tool illustrating the properties of the Fourier transform. The group is interfacing molecular dynamics simulations with macromolecular crystallography, using TLS groups for refinement. The group is also involved in protein structure determinations including two topology-switching mutants of ROP and the HrcQb and BcZBP proteins.
The Structural and Functional Biochemistry Laboratory (SFBL) in the U. of Thessaly in Larissa (www.bio.uth.gr/index.php?option=com_content&view=article&id=193%3Alab-bio-7&catid=52%3Areslabs&Itemid=72&lang=en) headed by D. D. Leonidas focuses on structure-based drug design with a current emphasis on type 2 diabetes, cancer, inflammation, thrombosis, glycogen metabolism, ribonucleases, deadenylases, mitochondrial steroid hormone receptors, and gene expression and homeostasis factors.
This survey of crystallography in Greece is by no means complete. V. Nastopoulos is doing crystal engineering, small-molecule and protein crystallography at the U. of Patras (www.chem.upatras.gr/index.php?lang=en), the team of A. Michailidis and S. Skoulika at the U. of Ioannina (www.uoi.gr/en/sciences3.php) studies supramolecular systems, V. Perdikarsis in the Technical U. of Crete (www.mred.tuc.gr/p013201_UK.htm) focuses on geochemistry. Moreover, many groups in the fields of mineralogy (i.e. Inst. of Geology and Mineral Exploration) and materials (in the academic and industrial sector) are extensively using diffraction methods in their research. New groups are being created recently by scientists who returned to Greece from abroad: I. Margiolaki at the U. of Patras, Bogos Agianian at the Democritus U. of Thrace, G. Kontopidis at the U. of Thessaly and M. Karpousas at the Agricultural U. of Athens. The crystallographic community endeavours to enhance its potential in human resources and in infrastructure via National and International collaborative research and the Hellenic Crystallographic Association's participation in ECA, IUCr and INSTRUCT activities help towards this end.
Irene M. Mavridis (mavridi@chem.demokritos.gr)