Crystallography around the world: Moldova
Moldova is not a member of the International Union of Crystallography.
The following crystallographers in Moldova are registered in the World Directory of Crystallographers.
29 entries found
Reports of past activities in Moldova
All events
This is a concise listing of all events in this country that are associated with the International Year of Crystallography 2014 and its follow-up initiatives.
This Special Report was published in the IUCr Newsletter, Vol. 19, No. 4 (2011).
Crystallography in Moldova

Tadeusz Malinowski (1921-1996).
Crystallographic research began in the Republic of Moldova just after World War II when T. I. Malinowski and A. V. Ablov recognized the value of using physical methods in the field of coordination chemistry. After military service, Malinowski graduated from the Dept. of Physics and Math of the Pedagogical Inst. (Chisinau) and worked as a school teacher. Together with Ablov, he developed single crystal X-ray analysis of coordination compounds. Malinowski began with studies of isomerism in compounds of the MX22A type, where M = Co, Ni, Cd, X = Cl, Br, and A are neutral ligands. He received his PhD in 1956 from the Inst. of Cryst. of the Academy of Sciences of USSR (Moscow). His supervisor, N. V. Belov, was the President of the IUCr between 1966 and 1969. Russian crystallographers helped foster crystallographic education and research in Moldova and Malinowski's young co-workers gained experience in Moscow. Weissenberg, precession and other cameras and X-ray generators were set up for experimental work. Structural electronography was begun in Moldova at the same time, by I. Diacon, who studied in Moscow with B. K. Vainshtein.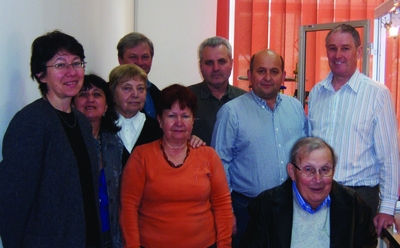 Members of LPMSSI: Marina Fonari, Paulina Bourosh, Galina Volodina, Peter Petrenko, Natalia Kostriukova, Sergei Shova, Victor Kravtsov, Yurii Simonov, and representative of Oxford Diffraction Mike Barclay.
In 1958, on the base of the Laboratory of Physical Methods of Solid State Investigation (LPMSSI) created by T. I. Malinowski, Dept. of Physics and Math of the Moldavian branch of the Academy of Sciences of the USSR was established. In 1961 the Academy of Sciences of Moldova was founded, and in 1964 the Dept. was reorganized into the Inst. of Applied Physics of the Academy of Sciences of Moldova, where T. I. Malinowski remained as the Head of the Laboratory. In the 1970s, new computers were purchased, and young scientists expanded the scope and productivity of the laboratory. In 1975, the first computer-controlled three-circle diffractometer DAR-UMB was installed, and later a four-circle RED-4 (made at the Inst. of Crystallography in Moscow) was installed together with diffractometers for XRPD. Physicists and chemists who were alumni of Moscow State U. and Moldavian State U. joined the Laboratory. The scientific activity generated dozens of PhD and Doctor habilitate theses in crystallography and crystal physics. After academician Malinowski's death in 1996 the Laboratory of Physical Methods of Solid-State Investigations, renamed after him, was led by Y. A. Simonov (1996-2010).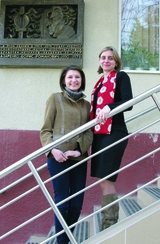 Two young crystallographers, Lilia Croitor and Elena Melnic, at the entrance of Institute of Applied Physics.
In the 1990s, the Laboratory participated in a number of international cooperative grant programs: INTAS, ISF, SCOPES, CRDF/MRDA. Members of the Laboratory were awarded grants from the International Science Foundation, American Crystallographic Association, Mianowski Foundation and others. International cooperation opened up a wide spectrum of research topics involving cooperation with scientific centers in Russia, Ukraine, European countries and the United States. Collaboration with Polish scientific centers established by T. Malinowski and Y. Simonov was especially important. Many Moldavian crystallographers gained access to modern X-ray diffractometers at the Inst. of Physical Chemistry of the Polish Academy of Sciences in Warsaw, the Faculty of Chem. of the Adam Mickiewicz U. in Poznan, and the Gdansk U. of Technology. In return, Polish scientists often visited Moldova to participate in conferences, to discuss joint scientific results and to plan future projects.
Moldavian crystallographers reported their results at international meetings in Europe and the USA, Schools on Supramolecular Chemistry (Ustron, Poland) and Crystallography of Supramolecular Compounds (Erice, Italy). They organized similar meetings in Moldova, including a series of International Meetings on Physical Methods in Coordination and Supramolecular Chemistry, held in Chisinau, Moldova. In 2002 the IUCr President, W. L. Duax, attended the meeting.
The interests of the members of the Laboratory range from simple inorganic compounds (semiconductors, oxides, ceramics), to multiple component supramolecular systems. Principal milestones are outlined here:
Algorithms and software for automatic analysis of Patterson function and theoretical development of 3D cross-sections of double Patterson functions and their use;
Single crystal diffraction of coordination compounds including carboxylates, oxycarboxylates, dioximes, amino alcohols, thiosemicarbazones, and S-alkylisothiosemicarbazides;
Electron diffraction analysis of the biological activity and polymorphic forms of complexes of aminoacids with copper(II) and other transition metals;
X-ray, quantum-chemical, and molecular mechanics studies of compounds with antitumor, antiviral, and psychoactive properties (thiosemicarbazones, benzotephum derivatives, benzodiazepines) to establish structure-activity correlations;
Host-guest interactions and inclusion phenomena in supramolecular systems (macrocycles, crown ethers, cryptands, and novel fluorenone-containing catenanes). Of special interest were intramolecular and weak intermolecular interactions;
Complexes of strontium, mercury, rare metals and lead with isomers of dicyclohexano-18-crown-6 were investigated to determine macrocycle-metal interactions. Azo and azoxy-crown ethers and calix[4]arenes and their complexes were investigated to understand complexing processes in ion-selective PVC membrane electrodes;
Study of heterocalixarene inclusion complexes revealed that an almost perfectly closed cavity may selectively encapsulate guest molecules;
Single-crystal and powder diffraction characterization of semiconductors, semimetals, films, twins, phase transitions, photocatalysts, and bentonite adsorbents.
Currently the LPMSSI (T. I. Malinowski) is focused on crystal engineering of multicomponent pharmaceutical compounds, metal-organic frameworks, nanoporous zeolite-like materials, nanosized polynuclear systems, cluster-based polymers and new magnetic materials. Structural investigations are conducted in cooperation with the U. of South Florida (M. Zaworotko), the Chemistry Dept. of Bucharest U. (M. Andruh), and Brown U. (B. Moulton). A single-crystal CCD Oxford Xcalibur E X-ray diffractometer installed in 2010 will foster the further development of the chemical crystallography in Moldova.
Left: Yulia S. Boyarskaya (1928-1996). Middle: Materials studied in LMPM. Right: Members of LMPM: Elena Chiriac (a), Zinaida Danitsa (b), Constantin Pyrtsac (c), Daria Grabco (d), Olga Shikimaka (e), Evghenii Harea (f), Raisa Jitaru (g), Adrian Prisacaru (h).
The effects of structural defects on the mechanical properties of crystals (strength, plasticity, brittleness) are investigated in the Laboratory of Mechanical Properties of Materials (LMPM) of the Inst. of Applied Physics. Y. S. Boyarskaya founded the lab (in 1961) and for 35 years directed studies of bulk crystals with ionic, covalent and mixed types of bonds, of metals, crystalline and amorphous semiconductors, thin semimetals and semiconductor wires, materials for biomedical applications, coated systems, high-temperature superconductors, construction materials, minerals and rocks.
| | | |
| --- | --- | --- |
| | | |
| Slip lines and dislocation structures near indentations on the (001) plane of MgO crystals produced by indenter under load (left) and after unloading (right). P = 5.0 N. | | Specific character of plastic deformation under indentation in composite materials as coatings/substrates. a - SnO2/Si, an image on the surface of the composite structure; b - image on the Si substrate after removal of the ITO coating (In2O3·SnO2). |
The research in the LMPM has focused on deformation of materials by concentrated (local) load action (microindentation, nanoindentation). New physical phenomena characterized in the LMPM include elastic recovery of indentations after unloading, polarity of plastic deformations of materials with different chemical bonds, reverse plastic deformation, mobility of dislocations in the field of non-homogenous stresses and interstitial mechanism of plastic deformation. The influence of impurities on the mechanical properties of crystals has been studied, and the effects of X-ray and γ-irradiation on the plastic and brittle behavior of crystals have been determined.
Models of material plastic flow for ionic, ionic-covalent and covalent crystals, semiconductors, and semimetals have been proposed. The phenomenon of reversable and prolonged plastic deformation under microindentation was characterized. The dislocation-disclination-interstitial deformation mechanism was formulated and confirmed based on experimental data. A quasi-destructured zone near the indentation, which contributes to mass transport during deformation, has been detected. Specific plastic deformation was detected on coating/substrate composites such as SnO2/Si, ITO/Si, Cu/MgO. A corrugated shape is characteristic not only for the delaminated area of coating, but also for the substrate around the indentations. The Laboratory collaborates with scientific centers in Moldova, Greece, Germany, Hungary, Russia, Ukraine, Romania, Latvia and other countries.

Alexander Zamorzaev (1927-1997).
A. M. Zamorzaev (1927-1997) established a School of Geometrical Crystallography and Discrete Geometry at the State U. of Moldova. He developed the general theory of antisymmetry in his PhD thesis Generalization of Fedorov groups and is the author of theories of geometry and mathematical crystallography: multiple antisymmetry, similarity, conformal and P-symmetry, and generalizations of Shubnikov's antisymmetry and Belov's color symmetry. His students applied the theory of P-symmetry to the study of multidimensional crystallography and the discrete symmetry groups of Lobachevski and Minkowski spaces. In the last decade, generalized groups of different categories for five-seven dimensional Euclidean space have been described and new theories of 'physical' generalization of classical symmetry and geometrical generalizations of pseudoeuclidean and noneuclidean space have been explored.
Victor Ch. Kravtsov (kravtsov@phys.asm.md)
Photographic record of crystallographic activities in Moldova
The complete IUCr photographic archive includes thousands of photographs. Here we include a collection illustrating activities in this country. This image is selected randomly from the galleries listed below (Conference on Physical Methods in Coordination and Supramolecular Chemistry, 2002).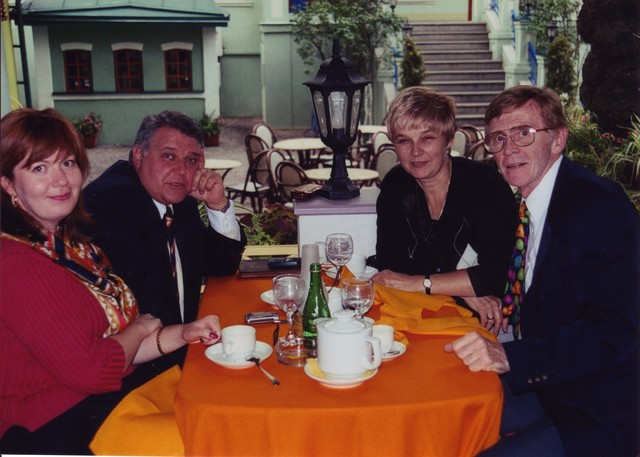 Photo galleries