Mathematical Crystallography at Applied Mathematics Conference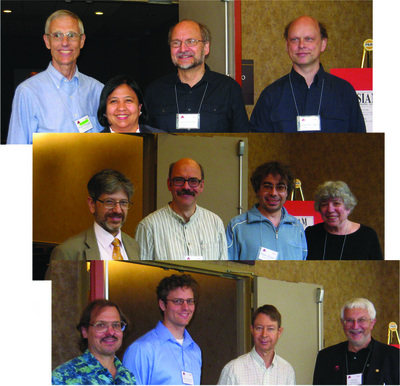 Eleven speakers (and one moderator) spoke at the three Mathematical Crystallography minisymposia. Top: Frank Morgan, Ma. Louise de la Penas, Egon Schulte and Bernd Souvignier. Middle: Massimo Nespolo, Uwe Grimm, Peter Zeiner and Marjorie Senechal. Bottom: Greg McColm, Henrik van Lengerich, Jean-Guillaume Eon and Mike Zaworotko.
Eleven speakers described recent research in mathematical crystallography at a Society for Industrial and Applied Mathematics (SIAM) conference on Mathematical Aspects of Materials Science in Philadelphia in June, 2013. The presentations occurred in three minisymposia co-organized by the IUCr Commission on Mathematical and Theoretical Crystallography.
Henrik van Lengerich described some difficulties in the self-assembly of finite structures. Egon Schulte and Ma. Louise de las Penas generated families of finite and infinite graphs. Peter Zeiner looked at lattices with nice sets of basis vectors. Bernd Souvignier and Jean-Guillaume Eon examined periodic nets from an algebraic point of view, while Frank Morgan looked at periodic minimal surfaces. Massimo Nespolo discussed properties of crystal structures related via phase transitions or isotypism, while Uwe Grimm discussed recent advances in diffraction theory.
Marjorie Senechal and Mike Zaworotko presented several challenges for the crystallography community to address. These were: how self-assembly works, what polygonal and polyhedral shapes of molecular building blocks are most useful and why, how one might make crystals with bent linkers, folding (including protein folding), the behavior and properties of infinite structures, generating designs of tri-nodal nets, to what extent are some nets special cases of others, the origins of diffuse (diffraction) scattering, making crystal design a routine activity, and building a common vocabulary for the community.
The conference was organized by the SIAM Activity Group on Mathematical Aspects of Materials Science (www.siam.org/activity/materials_science/). During an open-floor session, participants discussed prospects for more meetings and other activities to promote mathematical crystallography. Some outcomes of that discussion, and other prospects for the subject, are posted on the Crystal Mathematician blog at http://blogs.iucr.net/crystalmath/.
Greg McColm