Crystallography around the world: Sweden
Sweden
Category II
Adhering Body
Kungliga Vetenskapsakademien
Secretary of National Committee
A. SJÖGREN
, Svenska Kemistsamfundet, Wallingatan 24, 111 23 Stockholm, Sweden
National Committee
P. SOMFAI (Chair)
S. ABBAS
M. AKKE
J. ALMQVIST
L.I. ELDING
J. ELF
U. ELLERVIK
M. ELMGREN
M. JOHNSSON
H. KACK
L. LINDBERG
S. LOFAS
A. NOREN
U. NYMAN
L. OHRSTROM
E. SAUER-ERIKSSON
A. SJÖGREN
K. SZABO
J. WESTERBERG
L. ZELLNER
X.-D. ZOU
This information last updated: 15 Oct 2021
The following crystallographers in Sweden are registered in the World Directory of Crystallographers.
186 entries found
Reports of past activities in Sweden
All events
This is a concise listing of all events in this country that are associated with the International Year of Crystallography 2014 and its follow-up initiatives.
This extract from 50 Years of X-ray Diffraction, edited by P. P. Ewald and published in 1962, recounts the early development of crystallography in this region.
Sweden
The first major application of X-ray diffraction in Sweden occurred in 1914 when M. Siegbahn made his first experiments in X-ray spectroscopy. The great number of fundamental studies which was then initiated is recorded in Part IV, chapter 16. In the following account, only those aspects of the development of X-ray diffraction which bear on structure analysis will be reviewed.
In 1918 G. Aminoff, who was then lecturer in mineralogy at the University of Stockholm, started structure determinations of minerals by means of the Laue method. At first he studied several simple structures, and among them found the first representatives of the C6 (brucite and pyrochroite) and B8 (nickel arsenide) types. In addition he soon began very extensive studies of the minerals from Långban, and this also included much X-ray work. A pupil of Aminoff's, N. Alsén, investigated a series of sulphides, selenides and arsenides mainly of the B8 type (1925).
Independently of Aminoff, A. Westgren, working in 1919 at the metallographic laboratory of the Swedish Ball Bearing Company (SKF) in Gothenburg, established contact with M. Siegbahn (at that time in Lund) to inquire whether the structures of the iron modifications might be determined by means of powder diffraction methods. Westgren was invited to Lund in order to attempt this and the first experiments were carried out in collaboration with A. E. Lindh. The work was continued in the autumn of 1920 with a high-temperature camera, and it was then found that the α-β transition was not accompanied by any structural change, whereas γ-iron showed the same cubic face-centered structure as the austenitic steels at room temperature.
Laue photographs of felspars were taken in Lund in 1921 by A. Hadding. From 1923 onwards, S. Holgersson, also at Lund, determined lattice dimensions of sulphides and spinels as well as of some metallic elements and alloys by powder methods.
In 1921 Westgren obtained an appointment at the Institute of Metal Research in Stockholm and he immediately began to cooperate with G. Phragmén, who at that time had made his first attempts in X-ray crystallography under the guidance of Aminoff. Westgren also succeeded in obtaining funds for enlarging the X-ray diffraction equipment of Stockholm University with cameras, for powder as well as rotating crystal methods. The new equipment was to a great extent built by Phragmén.
The studies of the iron modifications were now continued and the structure of δ-iron was found. The unit-cell dimensions of cementite were determined. Phragmén investigated the system iron-silicon and in 1923 determined the structures of FeSi and FeSi2. Together with E. Jette from U.S.A., Westgren and Phragmén studied the system copper-aluminium, in which a phase with the γ-brass structure was found for the first time (1924).
The structure analogies in the systems copper-zinc, silver-zinc and gold-zinc were found by Westgren and Phragmén in 1925. At about the same time they investigated the modifications of manganese, and studied the carbide systems of chromium, molybdenum and tungsten. They also succeeded in characterizing the so-called high-speed steel carbide (1927).
In connection with a study of the copper-tin system, Westgren and Phragmén found the structure analogies between the three systems copper-zinc, copper-aluminium and copper-tin (April 1926). At a discussion meeting in the Institute of Metals in London one month earlier, Hume-Rothery had called attention to the similarities between the β-phases of these systems observed under the microscope, and had suggested that these similarities were connected to the fact that the ratio of the number of valency electrons to the number of atoms in all three phases is 3:2. Through the studies of Westgren and Phragmén on these and several other binary systems, this rule of Hume-Rothery's obtained more solid support.
In the autumn of 1926 A. J. Bradley came from Manchester to Stockholm in order to take part in the X-ray work on alloys. He was particularly interested in the structure of α-manganese and succeeded in determining this for an element of unusually complex structure. Using diffraction data obtained in Stockholm for γ-brass and for analogous phases in several other systems he was also able to determine the structures of the γ-phases in the copper-zinc and copper-aluminium systems. The characteristic formulas of these phases derived from the structures, together with the characteristic formula found by Westgren and Phragmén for the γ-copper-tin phase, showed that a valency electron to atom ratio of 21:13 is the deciding factor for phases of this type to occur.
In the meantime, Aminoff had been appointed Professor and head of the Department of Mineralogy of the Museum of Natural History in Stockholm (1923). After he had obtained adequate laboratory equipment at the Museum, he was able to resume his research work in the new surroundings. The Långban minerals occupied much of his time, but he also devoted himself to general problems, for example the mechanism of the evaporation and dissolution of crystals. His theoretical study of the. contact zone between the two individuals of a twinned crystal is of great value. Aminoff also made use of electron diffraction, for example in his study of the oxidation of zinc sulphide crystals. In the last-mentioned studies, as in much of his other work, Aminoff was assisted by his wife, Birgit Broomé-Aminoff. Aminoff died in 1947 after illness had greatly reduced his capacity for work over a period of about two years.
In 1925 X-ray diffraction was also started in the Physics Department of the Royal Institute of Technology in Stockholm by Professor G. Borelius together with C. H. Johansson and J. O. Linde. Their main investigations concerned alloys between metals forming continuous ranges of solid solution, and they made the important discovery of superstructures (1925-28).
In 1927 Westgren was appointed Professor in General and Inorganic Chemistry at the University of Stockholm. The close collaboration with Phragmén at the Institute of Metal Research was maintained, however, and the use of the X-ray diffraction equipment was shared by the two institutes. The equipment was also modernized and extended. Pupils in increasing numbers began to come to Westgren's laboratory, and the field of action was widened.
Westgren's first pupils were H. Arnfelt (the sytems iron-molybdenum and iron-tungsten, stacking disorder in layer lattices) and G. Hägg (systems of iron with elements of the fifth group, nitrides, carbides, borides, and hydrides of transition elements, solid interstitial solutions, spinels, tungsten bronzes, molybdenum and tungsten oxides). Then came, amongst many others, E. Öhman (manganese modifications, the system iron-manganese, martensite studies), W. Ekman (systems of zinc, cadmium and aluminium with transition elements of the eighth group, in which it was found that a number of structures of electron compounds could be explained by the Hume-Rothery type of rule if the transition elements were regarded as having zero valency), C. Brosset (alkali tungsten(III)-chlorides, fluoro-aluminates, Mo(II) complexes, structures in liquid phases), A. Ölander (alloy phases for which electrochemical measurements of disorder were also made) and H. Perlitz (different alloy phases). There were also L. G. Sillén (bismuth oxides, numerous oxide halogenides, molybdates and tungstates), and A. Byström (minerals, manganese and lead oxides). Westgren himself took an active part in much of this work and solved other problems, e.g. complete structure determinations of several binary and ternary metallic carbides.
Hägg left Stockholm in 1937 for a chair in General and Inorganic Chemistry at the University of Uppsala. Among his collaborators in Uppsala the following may be mentioned: A. Magnéli (molybdenum and tungsten oxides, tungsten bronzes), I. Lindqvist (polyanions, coordination compounds, bond problems), R. Kiessling and B. Aronsson (metallic phases of transition elements with non-metals), E. von Sydow and S. Abrahamsson (long-chain organic compounds), and I. Olovsson (low-temperature work on ammines of ammonium halides and other substances with hydrogen bonds).
In 1943 Westgren was appointed Secretary of the Academy of Sciences, thus leaving his chair at the Stockholm University, and in 1944 Phragmén died. X-ray work was carried on at the University mainly through Sillén, Brosset, and Byström. B. Aurivillius (bismuth compounds, mixed oxides with layer lattices) should also be mentioned. Sillén moved his work to the Royal Institute of Technology when in 1950 he obtained the chair in Inorganic Chemistry there. His work has continued with investigations on uranium and thorium compounds as well as on solid phases connected with his extensive studies of hydrolysis. He has also been joined by G. Lundgren (oxo and hydroxo salts of tetravalent heavy metals). In 1953 Brosset obtained the corresponding chair at Chalmer's Institute of Technology in Gothenburg and was also appointed director of the Institute of Silicate Research. He has started structure analysis of glass with X-ray diffraction methods and has also cooperated with N.-G. Vannerberg (peroxides) and J. Krogh-Moe (borates).
Byström died in 1952. In the following year Magnéli went to the Stockholm University as associate professor. Since then he has organized a fairly extensive programme of research on oxides along the lines he had been following in Uppsala.
Structure determinations on minerals are being done by F. Wickman, Aminoff's succesor at the Museum of Natural History in Stockholm. Important applications of X-ray diffraction to structure problems in medicine are being carried out by E. Stenhagen (long-chain compounds), previously in Uppsala and now in Gothenburg, as well as by A. Engström and D. Carlström (structures in bone tissue) in Stockholm.
---
First published for the International Union of Crystallography 1962 by N.V.A. Oosthoek's Uitgeversmaatschappij, Utrecht, The Netherlands
Digitised 1999 for the IUCr XVIII Congress, Glasgow, Scotland
© 1962, 1999 International Union of Crystallography
Photographic record of crystallographic activities in Sweden
The complete IUCr photographic archive includes thousands of photographs. Here we include a collection illustrating activities in this country. This image is selected randomly from the galleries listed below (IUCr Congress and General Assembly, 1951).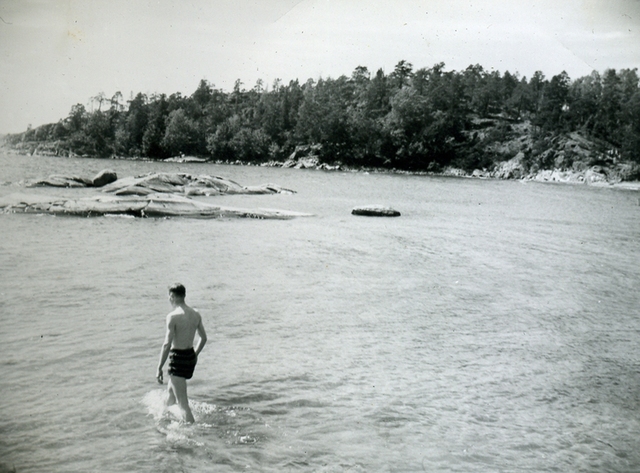 David Shoemaker.