IUCr-sponsored African PhD student graduates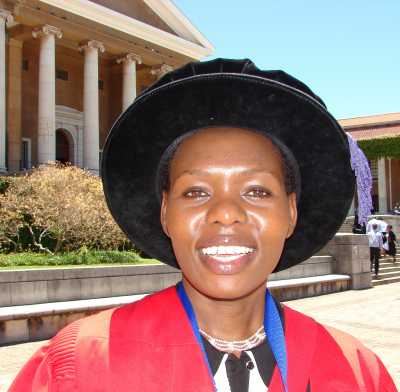 As part of the IUCr's Crystallography in Africa initiative, the Executive Committee has established a PhD programme in crystallography to enable African PhD students to work in a South African university.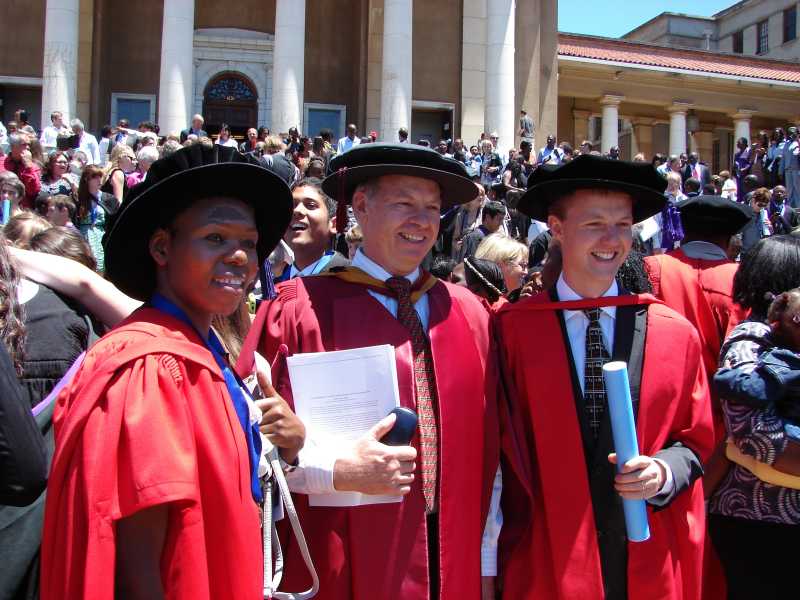 Professor Trevor Sewell (centre) flanked by his doctoral graduands Serah Kimani (left) and Jeremy Woodward (right).
We are pleased to report that the second student to benefit from this support, Serah Kimani, has recently graduated from the Department of Molecular and Cell Biology at the University of Cape Town. Serah Wangari Kimani was born and raised in Gacharage, a small village in central Kenya. She has a BSc (Hons) in Biomedical Sciences and Technology from Egerton University, Kenya. She was recruited to the Joint University of Cape Town/University of Western Cape Masters programme in Structural Biology from which she graduated with distinction in 2007. During her post-graduate studies Serah has attended a graduate exchange programme at the University of British Columbia. She has numerous awards and prizes to her credit and has presented her work in both local and international conferences. Serah has co-authored several publications in international peer-reviewed journals.
Professor Sewell, her supervisor, reports that Serah is returning to Kenya but intends to return to a post-doc appointment at the University of Cape Town in 2012. Three papers arising from her thesis are in an advanced stage of preparation and there may well be more.
Her graduate thesis was entitled Catalysis, substrate binding and specificity in the amidase from Nesterenkonia species and the citation in the graduation programme states 'this was a formidable work, involving the determination of some forty crystal structures which establishes her as one of the leading structural biologists on the African continent'.

The IUCr is delighted to congratulate Serah on her achievements.