[
Date Prev
][
Date Next
][
Thread Prev
][
Thread Next
][
Date Index
][
Thread Index
]
RE: COMCIFS minutes
Dear James,
Carol Brock is the new Chair of the Commission on Crystallographic Nomenclature and replaces me as ex-officio correspondent of COMCIF.
With my best wishes,
Andre
Andre Authier
Professor Emeritus,
Villechenine, 87470 Peyrat-le-Château
Tel/Fax +33 (0)5 55 69 40 42
email: AAuthier@wanadoo.fr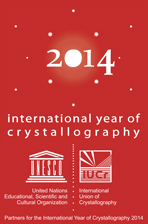 De : comcifs-bounces@iucr.org [mailto:comcifs-bounces@iucr.org] De la part de James Hester
Envoyé : vendredi 29 août 2014 03:39
À : Discussion list of the IUCr Committee for the Maintenance of the CIF Standard (COMCIFS)
Objet : Fwd: COMCIFS minutes
Dear COMCIFS,

Please find attached some draft minutes from our meeting in Montreal. Would those who were present please check them and advise Brian or myself of any errors or omissions.
thanks,
James.


--
T +61 (02) 9717 9907
F +61 (02) 9717 3145
M +61 (04) 0249 4148

_______________________________________________
comcifs mailing list
comcifs@iucr.org
http://mailman.iucr.org/mailman/listinfo/comcifs

Reply to: [list | sender only]