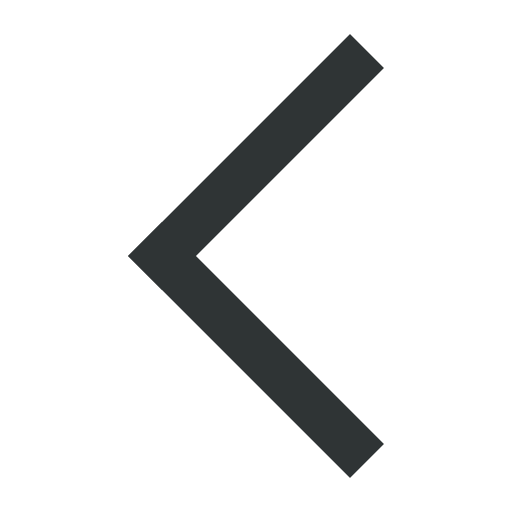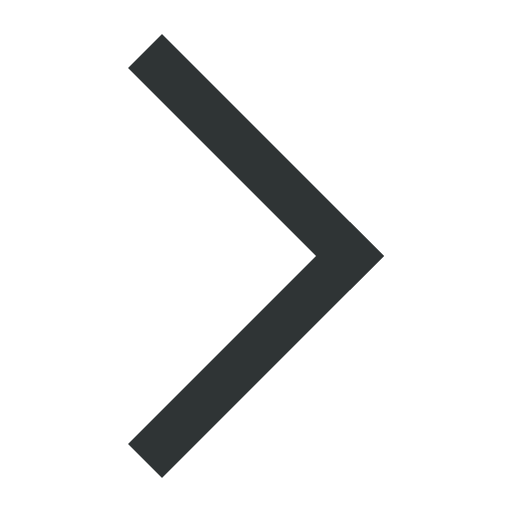 Obituary
Ian Munro – father of synchrotron radiation in the UK (1937–2022)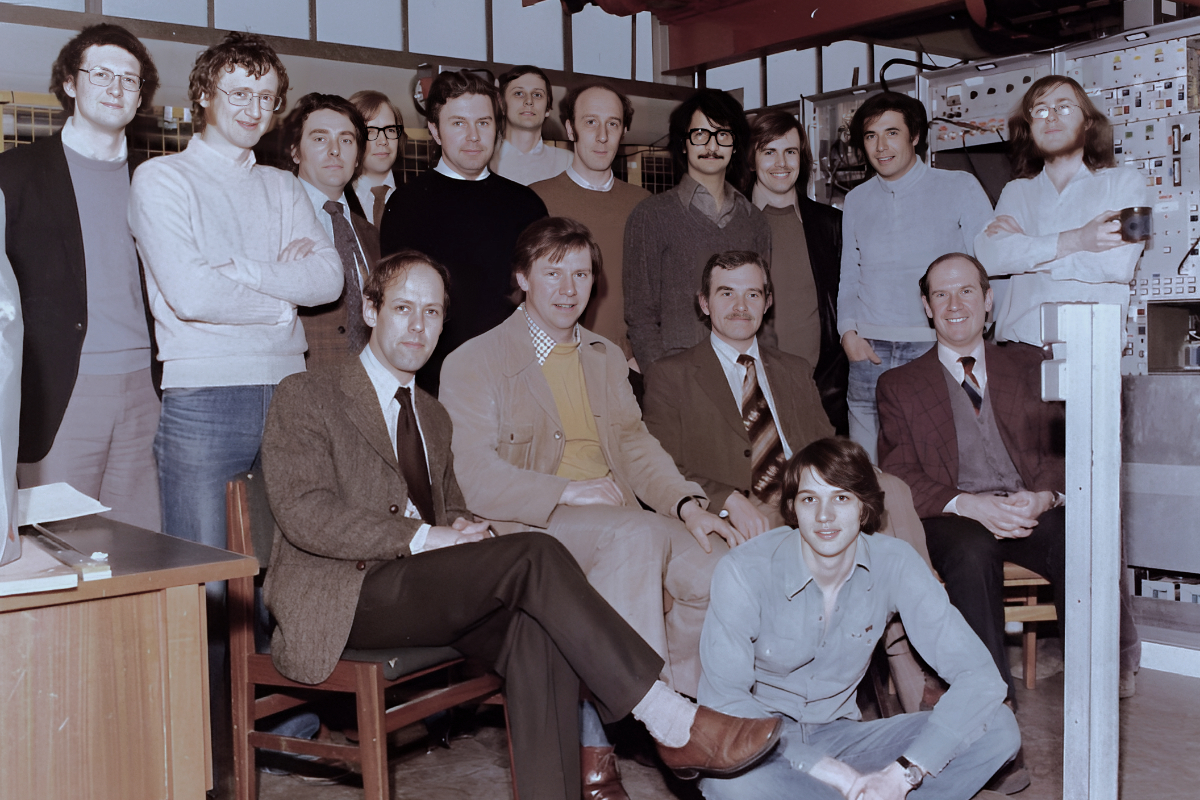 It was Sunday afternoon, 29 September 1974, when I arrived at Manchester Airport, the year in which the 'air bridges' connecting passengers direct from the aircraft to the terminal had become operational at Manchester. A smiling face full of welcoming enthusiasm, so typical of Ian Munro, recognised me and came forward with his positive style so that I did not have to wonder or worry if there would be someone there to meet me. I soon discovered that I was not going to the student accommodation but to his home, where I stayed for a whole week. I was moving from my mother's home in Karachi to Ian's home in Didsbury – both full of love – home from home.
During the daytime through the week, he devoted a lot of time introducing me to the department colleagues and the tea room, helping sort out my accommodation in Owens Park and opening my bank account (almost 50 years later, I still have the same account). In the evening, we would travel from the university to home in his VW van, where he and Joan would rustle up dinner for the four kids (Robert, Elizabeth, Neil and Janet) and me. What a man! Caring, warm, loving and above all, a modern family man, sharing duties of the kitchen and everything in the days when it was not the norm.
During the next three years, initially as a PhD student then as a PDRA, I joined Ian Munro in his Synchrotron Light Project, which he had established in 1973 at the Daresbury Laboratory, in the village of 'Alice in Wonderland'. He had taken a bold action upon his return from a sabbatical in Canada to write a letter to the Director of Daresbury, Alec Merrison, in 1967, to obtain his support to explore the properties and use of light from an electron synchrotron that had been commissioned in 1967 for a different scientific purpose (particle physics). His vision, enthusiasm, ability to bring people together and endless energy resulted in him obtaining twice the funding he had requested, allowing him to establish two beamlines rather than just one. When I arrived in 1974, there were already teams from Reading, Oxford, Bristol and the famous MRC Laboratory of Molecular Biology in Cambridge. Teams from Leicester and Warwick soon joined this amazing project.
While we were immersed in the new exciting science made possible by this new tool, Ian, with other senior science leaders, was working on a way to get a more ambitious project approved, as he knew that the parasitic synchrotron light facility was going to close in a few years. In 1976, we learned that the closure would be sooner than even Ian had expected only a couple of years before. It happened on 1 April 1977 with the highly positive news that the UK's Government Science Research Council had decided to build the world's first dedicated purpose-built Synchrotron Light Source (later to be known as the SRS) at Daresbury. On 31 March 1977, he worked with the troops until late in the evening before returning home to Didsbury. The next morning, we had a closing ceremony for the old NINA facility and the announcement of the start of the construction phase of the SRS. Ian duly turned up, enthused, and thanked the troops and made us all happy. It was only later that we discovered that Ian had spent the rest of the late evening of 31 March with his father, who lived a few doors away from his home. His dad had passed away during the night as if he knew the importance of Ian's presence at Daresbury on 1 April 1977 at 11 am. Ian was an exemplary leader.
After the closure of NINA, Ian took the opportunity to spend a year at the Stanford Synchrotron Radiation Project (SSRP, but now SSRL) in California from September 1977 (see Box 1). Here, Ian set up a new experimental facility through his ingenuity and persuasion in a Sears garden shed (nothing fancy but a world's first) installed on the roof of the Stanford Positron Electron Accelerating Ring (SPEAR), and published a seminal paper (Munro et al., 1979) with the world-renowned biochemist Lubert Stryer.
Box 1. From Keith Hodgson, Stanford (with input from Piero Pianetta and Herman Winick)
After the operations of the NINA Synchrotron Radiation Facility (SRF) in Daresbury were concluded in 1977, Ian took the opportunity to spend a year at the SSRP in California. After arriving at the SSRP in August 1977, Ian continued his pioneering development and applications of synchrotron radiation (SR) for time-resolved optical excitation and emission studies. As the lead scientist, and with support of the SSRP staff, Ian set up a new experimental station in a Sears garden shed installed on the roof of the SPEAR storage ring (see first photo below). To celebrate the first light, Ian arranged for a bagpipe player and provided Scotch and haggis and drinks on the occasion of the successful commissioning of the station. Ian and collaborators pursued innovative experiments that took advantage of the unique properties of SR, including its brilliance, broad energy bandwidth and polarization.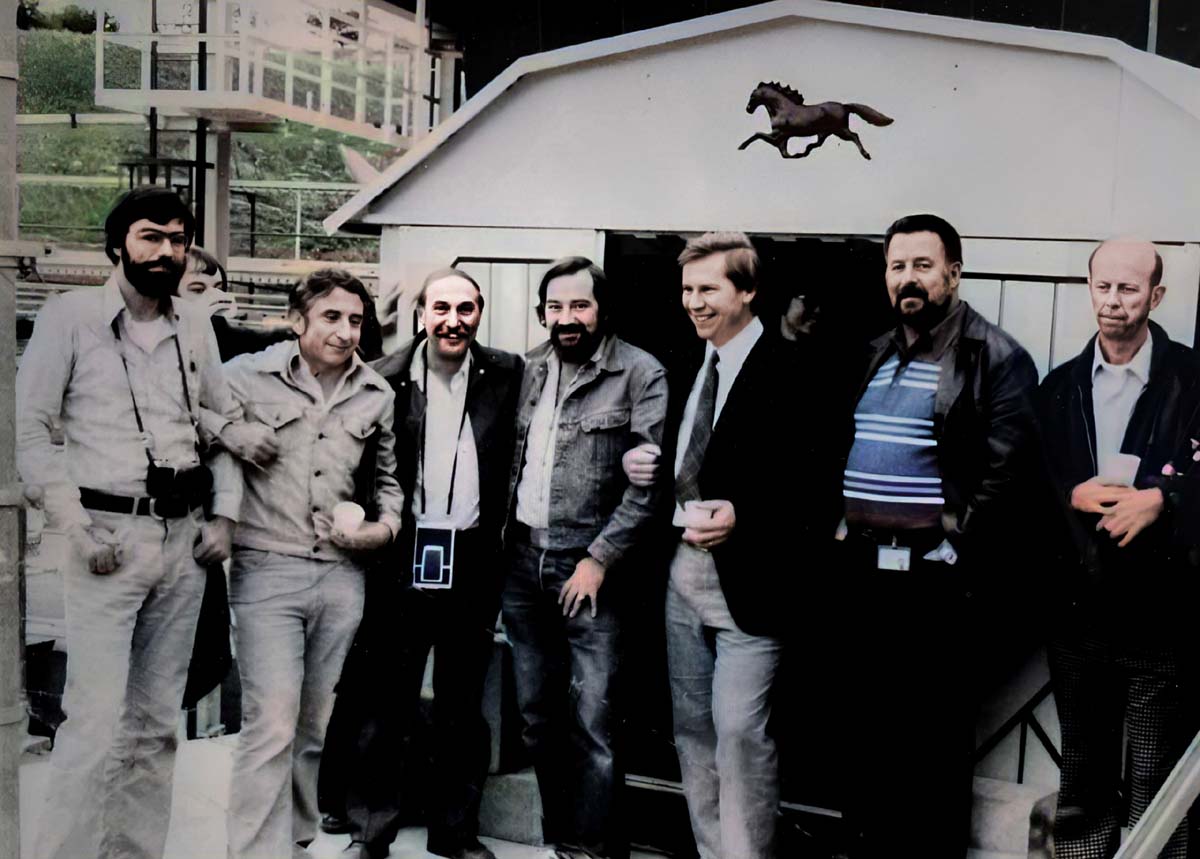 Ian Munro (third from right, wearing a tie) with SSRP Director Seb Doniach (second from left) and other involved SSRP scientific and technical staff in front of the experimentation station built on top of the SPEAR storage ring for time-resolved studies. Herman Winick took the photo.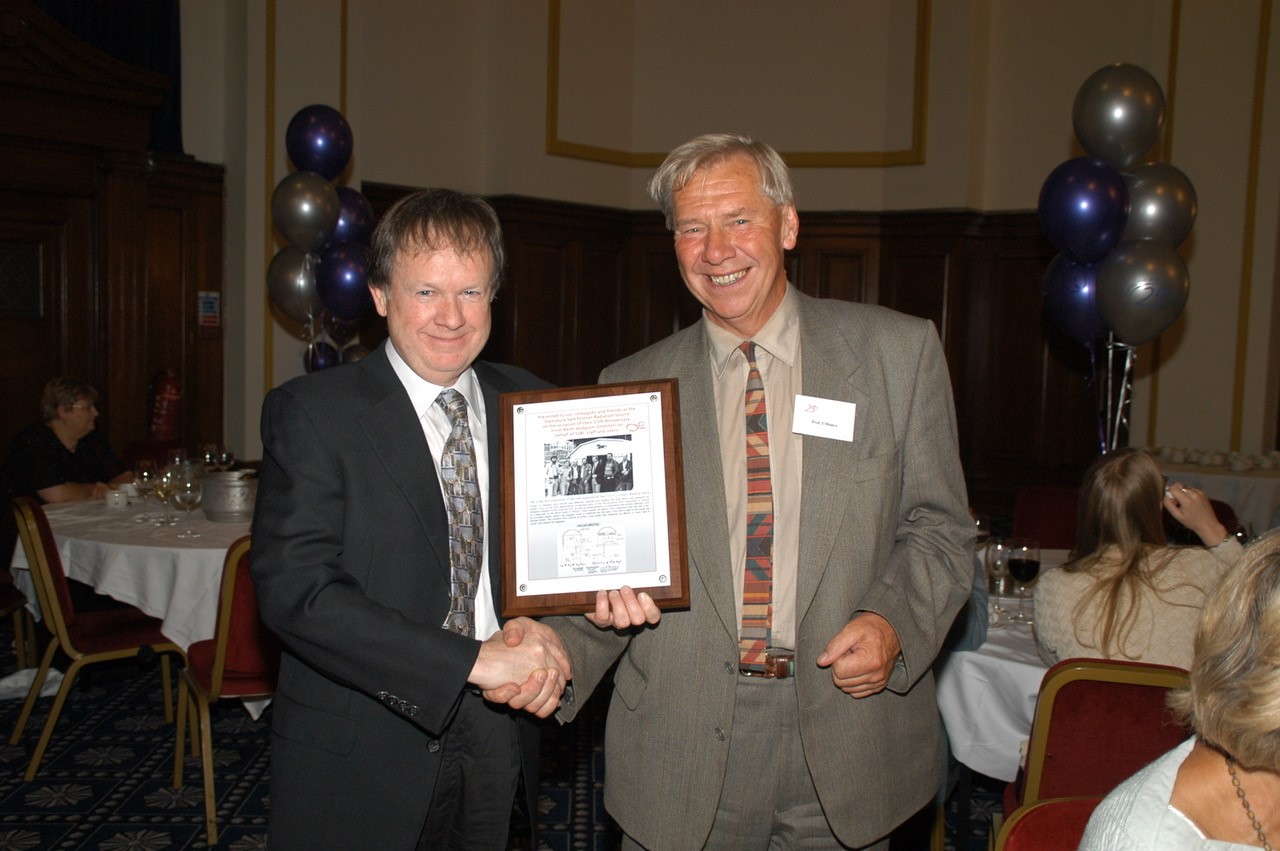 Keith Hodgson presenting a photo of his time-resolved instrument picture on the occasion of the 25th year celebration of the SRS.
In September 1978, he returned to Daresbury, working to make the SRS – which became operational in 1980 – not only the world's first but also the leading light to the world's scientists. Many leading researchers from across the world became regular visitors and friends of Ian, Daresbury and the UK. Two of these collaborations are worth mentioning: one with the Soviet Union through the Royal Society agreement with the Academy of Sciences, and the other between the Science Research Council (Daresbury Laboratory was one of their laboratories) and the Japanese Ministry of Education, Science and Culture. The second of these led to a close relationship with the Institute for Molecular Science (IMS) in Okazaki (see Box 2).
Box 2. From Nobuhiro Kosugi, Director of KEK IMSS, Japan
The UK–Japan Scientific Cooperation started in the areas of space science, biotechnology and molecular science through the aide-mémoire signed in 1982. Noting the success in developing co-operative research activities, SERC and Monbusho [the Japanese Ministry of Education] agreed to continue co-operative research activities and expand the areas through the aide-mémoire in 1990 and in 1993. In molecular science, Daresbury Laboratory and the IMS in Okazaki were key institutes and Ian Munro and Hiroo Inokuchi were key persons for more than 20 years, focusing on the important areas of molecular science linked with SR, lasers and supercomputers applied to atomic, molecular, optical and materials sciences. This agreement embraced many different universities, various research institutes and SR facilities (SRS, UVSOR, Photon Factory and SPring-8) in the UK and in Japan. Ian organized various UK–Japan N+N meetings and took care of many young visitors from Japan at the Daresbury Laboratory, for example, in 1984, Takao Namba (initiated infrared spectroscopy using SR) and Nobuhiro Kosugi (1993 successor to Hiroo Inokuchi as Director of UVSOR).
Ian stayed several times in Okazaki and enjoyed Japanese cultural activities with his local friends. As seen in the photo below, Ian played a leader of the samurai squad of the Ieyasu Procession Festival in the cherry blossom season of 1987, as Okazaki Castle is famous for being the birthplace of the founder and first shogun, Tokugawa Ieyasu, of the Edo Shogunate period. While Ian was working as guest professor at the IMS in 1998, Hiroo played a vital role by helping to minimize the consequences to Ian of a massive, life threatening, brain hemorrhage. His last visit to the IMS was in 2015 to attend the memorial symposium for the late Hiroo Inokuchi.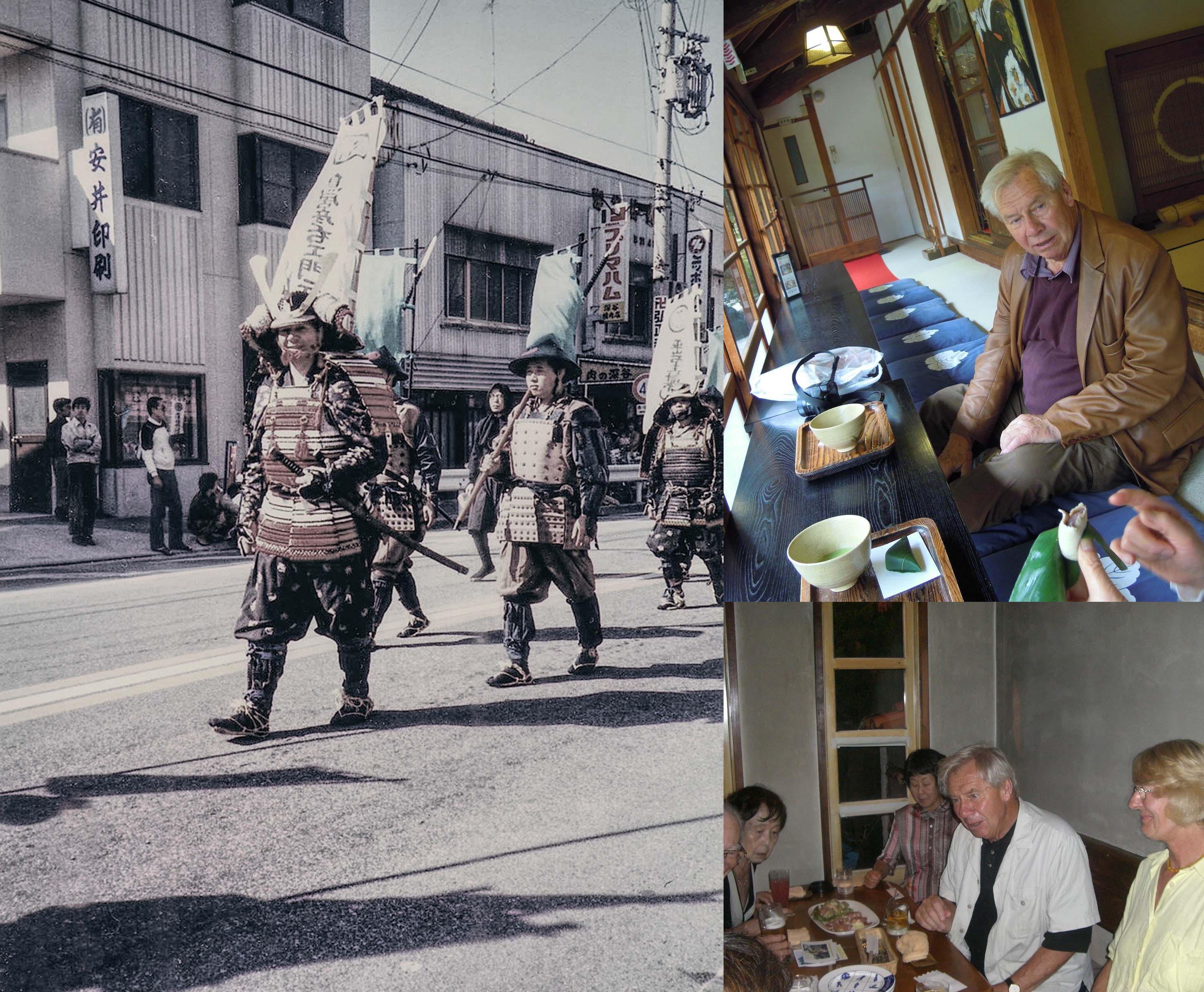 Photos from Ian's time in Japan. Bottom right: Ian and his wife, Caroline, having dinner in Okazaki with their Japanese friends.
Many of the researchers in the UK benefited from his vision, enthusiasm and support. Several became Fellows of the Royal Society as a result of their work at the SRS (see Box 3). Before his retirement, the SRS achieved another world's first, the first Nobel Prize given to work based on synchrotron X-rays, to Sir John Walker, marked by the Journal of Synchrotron Radiation through a special issue on Synchrotron Radiation and Structural Biology in July 1999.
Box 3. From Sir Richard Catlow, FRS, former Foreign Secretary of the Royal Society
I remember Ian with both gratitude and affection for the support and encouragement he gave me when working at the SRS in the 1980s. Together with Alan Chadwick and Neville Greaves, I was one of the early users of the extended X-ray absorption fine structure technique in materials chemistry. And, although this was not Ian's scientific field, he saw the value and significance of our work. Even more important was the help during my four years as a joint appointee between Keele University and the Daresbury Lab, with the role of helping to develop the powder diffraction facilities. There were many difficulties, but working with Phil Pattison, Andy Fitch, Bob Cernik and others we achieved a great deal and Ian's support was crucially important. The synchrotron community owes a great deal to Ian's broad-minded enthusiasm which, coupled with his humour, made him a great colleague.
There are many stories that I can tell, but here I offer only three short ones. During the NINA SRF operation, Ian would always come back in the evening whenever we had a dedicated time. Quite often, he would make coffee/tea from the office building located 100 yards from the experimental hall and bring several cups balanced on a tray. One wet evening, he came into the experimental hall and saw some frogs. His 'save the frogs' instinct prompted him to immediately open the big shutter doors designed to receive large equipment and let the frogs out. Later on, Ian was horrified to discover that these were special frogs that had been imported from Hungary by Hugh Huxley and Wasi Faruqi for the very important work of understanding how muscles work (Huxley & Holmes, 1997) (see Box 4).
Box 4. From Wasi Faruqi, MBE [MRC, Laboratory of Molecular Biology (LMB)]
Starting in ~1971 our motivation for using SR was in the hope of achieving much higher fluxes than were available with laboratory-based X-ray sources. The driving force for the science behind this project was Hugh Huxley's long-term project aimed at unravelling the molecular details of muscle contraction. It was expected that higher fluxes would hopefully, with SR, allow rapid time-resolved imaging of living muscle fibres to follow the course of structural changes on a millisecond time scale. The organisation of the SRF, where the 'parasitic' beams provided photons for the experimenters, was organised by the Daresbury Laboratory committee chaired by Ian Munro with Jeff Worgan as Secretary. Our camera, based on a double focusing mirror monochromator, was quite an elaborate undertaking for LMB, containing components from King's College London and the National Physical Laboratory – shown in the photo below. The whole assembly needed quite an effort on the part of the local mechanical workshop to mount the camera and the electrical wiring for all the stepper motors and other electronics – all done with Ian's blessing!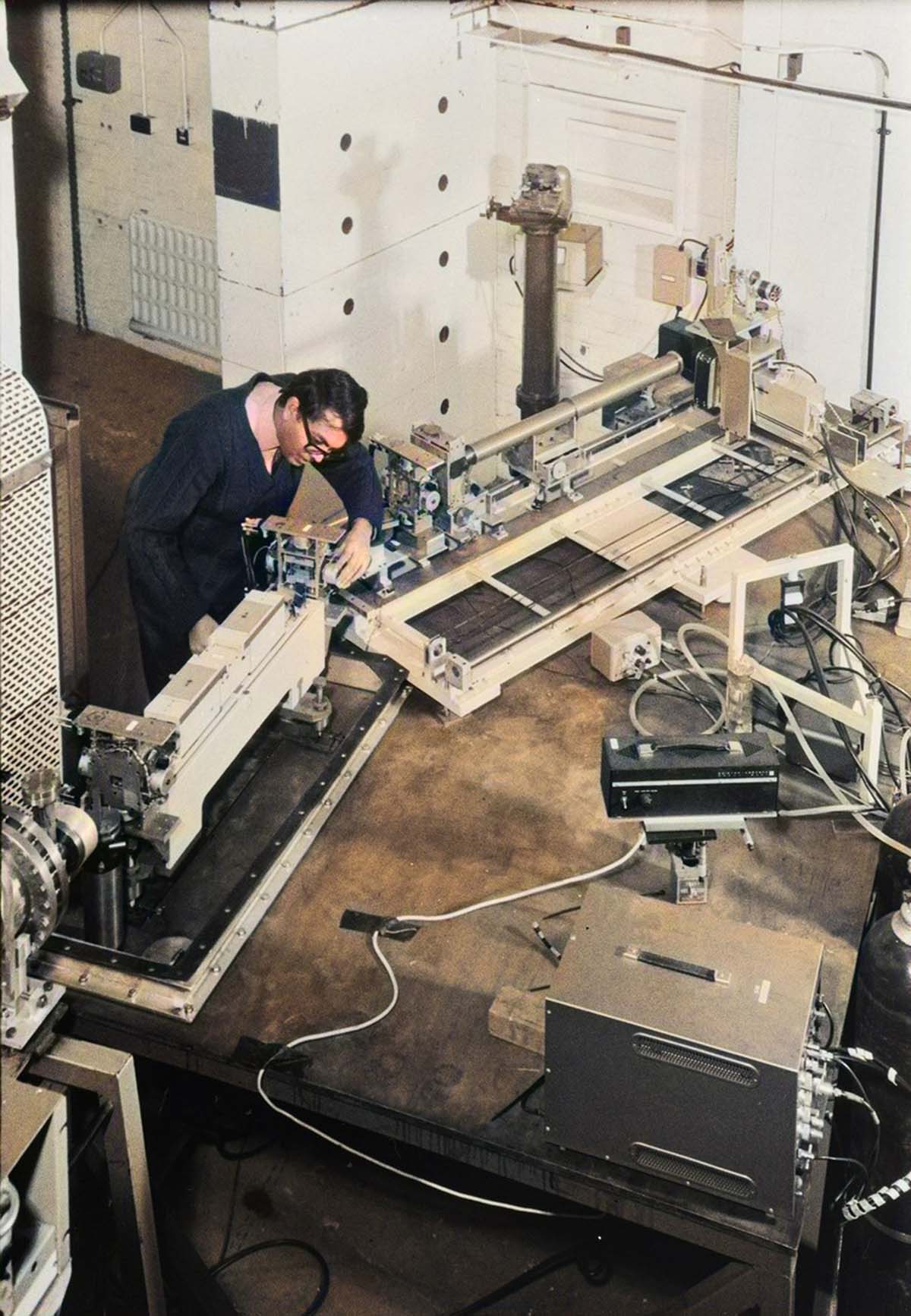 Another story relates to an incident that occurred on the South Beamline of the NINA SRF, where numerous exploratory X-ray experiments were conducted, which often required new installations and changeover. It was the beamline where muscle diffraction had a permanent installation (Box 4), whereas others such as protein crystallography, white-beam topography and energy-dispersive powder diffraction experiments required putting things together for a particular experiment, which sometimes called for a hectic pace of work (Box 5). Ian would join in helping to assemble the components, partially to see that the exploratory experiments got the best chance but also to share in the excitement of new results from these experiments (see Box 5). During one such exercise, technicians were working on some installation on the mezzanine floor while the scientist and engineers were putting things together for the experiment, going in and out of the southern experimental hall. To try out the experiments with the beam, they searched the area and locked up the hall, soon to discover an electrician running out and breaking the emergency exit – he had been working on the mezzanine, which Ian and his colleagues had forgotten to check.
Box 5. From Mike Glazer, Oxford University and co-founder of Oxford Cryosystems
In 1974 I was working at the Cavendish Laboratory Cambridge when I was approached by a young researcher called Joan Bordas. He had just left the Cavendish to work at the NINA synchrotron in Daresbury. He told me about this interesting X-ray source and suggested we could work together to explore what can be done with it. So, we began a programme of trial experiments, the first one being to show how to study a phase transition using white-beam topography. This was when I first met Ian Munro in Daresbury. He helped us to continue to try different experiments. At that time, all that we had in the hall (referred to as the South Beamline) was an empty room and a beam pipe: any equipment or mountings had to be built from scratch, often using things like books on which to place detectors. Lining up was rather hit or miss and required many attempts. Ian was very useful here in seeking whatever he could find to enable us to work.
In 1975–1976 we tried to use an Li-drifted solid-state detector (this was the first at a synchrotron), and Ian actively helped us to do this. I recall that the detector was placed on a pile of lead bricks plus some books in order to get it in line with the X-ray beam. We soon found that in order to not saturate the detector we had to attenuate the beam dramatically so that the source appeared to be weak, and to do this we mocked up a collimator out of lead blocks. In the end, we were able to get a good set of diffracted intensities from rat-tail tendon (I don't recall where we got this from). We were able to show that the peak intensities obtained were meaningful, which led us to measure energy-dispersive powder diffraction peaks. The rat-tail work was written up and published in Nature (Bordas et al., 1976). The paper seemed to attract a lot of attention, although personally I thought that what we had done was rather trivial!
In early 1976 we were all invited to a Royal Society Conversazione to show off the work. The Daresbury media machine swung into action and produced a load of glossy brochures and an exhibition stand. I remember the then Prime Minister, Harold Wilson, coming along to chat to us. I mentioned to him that later that year I would be going to Jesus College Oxford, where he had been an undergraduate. He replied that he would buy me a beer next time he was there. I am still waiting. Anyway, my recollection of working with Ian Munro was a lot of fun and a lot of laughing, especially when we were trying so hard to line up the detector with no extra equipment.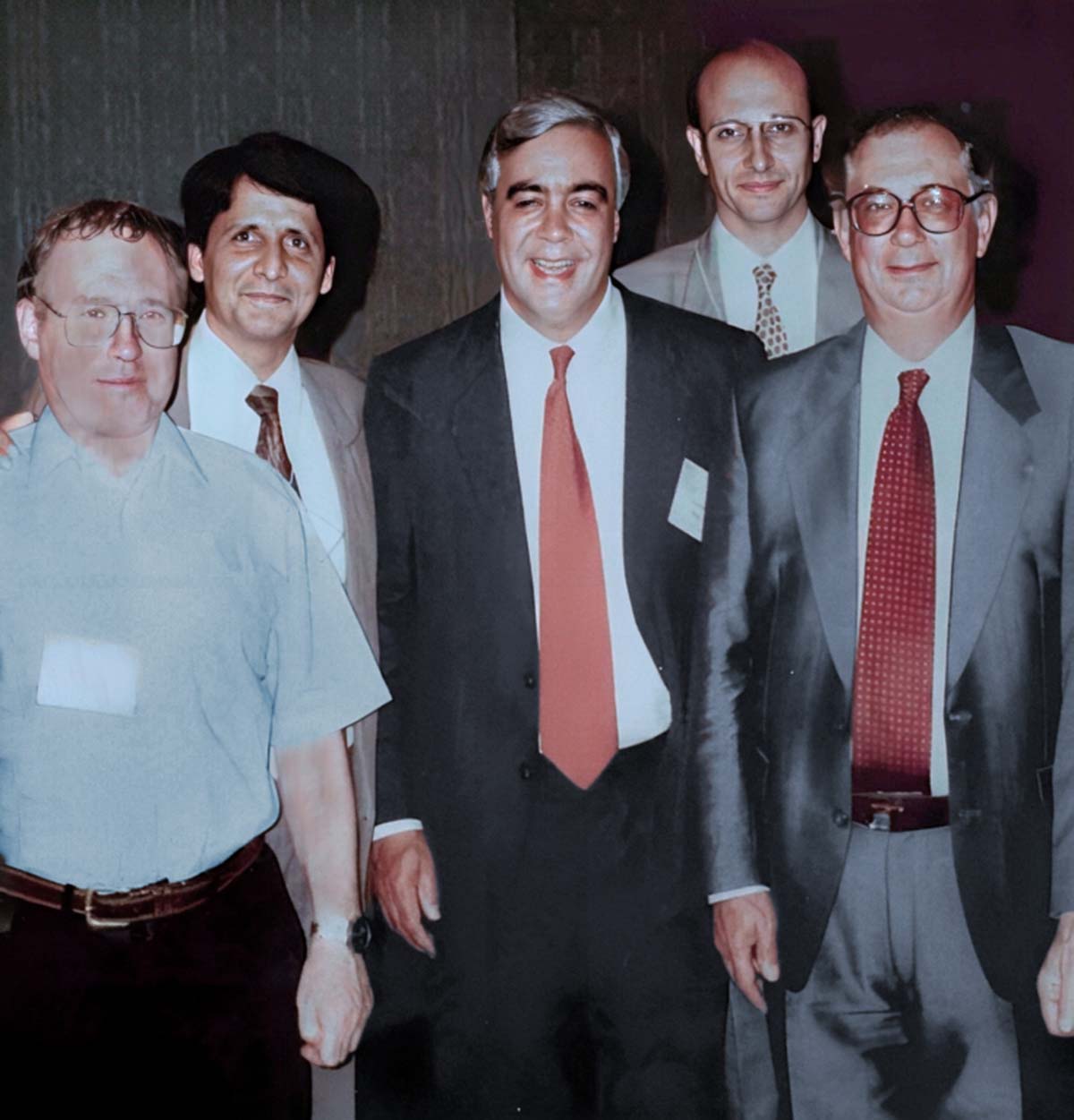 From left to right: Mike Glazer, Samar Hasnain, Charlie Bugg, John Helliwell and André Authier on the occasion of the IUCr Congress and General Assembly in Seattle, WA, USA, in 1996. Ian Munro played an important role in supporting and encouraging the launch of the Journal of Synchrotron Radiation (JSR), of which he was one of the founding co-editors.
From John Helliwell, Manchester
My first encounters with Ian were at SRF and then SRS. I imagine that it was Ian, as the head of SRF, who wisely assigned the highly experienced SR scientists Joan Bordas and Jeff Worgan to work closely with me as I was totally inexperienced at Daresbury, or any synchrotron. Ian in his 1998 look-back overview in the Journal of Synchrotron Radiation (JSR) spoke favourably about how my efforts had worked out. Always encouraging, Ian could nevertheless be incisively critical, as he was when he reviewed my time-resolved diffraction book, also in JSR.

The final story relates to a visit by my group in February 1986 to the Photon Factory in Japan. Ian was visiting another laboratory in Japan in Okazaki at the time and decided to come to the Photon Factory in Tsukuba, whose director at the time decided to throw a party in Ian's honour. To our surprise, it followed karaoke, which was very fashionable in Japan then, but we had not yet come across it in the UK. As we were very few from the UK compared with the Japanese contingent, we were joined by a couple of senior visitors from Germany. The Japanese party and us had to alternate. Initially, we did pretty well, but soon we started running out of material. Ian, thinking on his feet, suggested singing God Save the Queen – the German colleagues joined in happily. We could finish the party with our heads held high.
On a personal note, his return to Daresbury in 1978 was good fortune for me. I had gone to Germany in September 1977 when Ian had gone to sunny California. I came to the UK in September 1978 en route to emigrating to the USA. Ian persuaded me to stay in the UK and take up one of the job offers there. I took up a PDRA position in Manchester Chemistry and Medical Biophysics departments with David Garner and David Hukins – the rest is history – all of which is owed to Ian Munro sharing lots of joyful time, whether experiencing getting a tailor-made suit for Ian (who normally did not wear a suit) or getting a special tailor-made wedding dress for his second wife, Caroline, with the master tailor doing the fitting trial in the comfort of her hotel room. It has been the greatest privilege of my life to know Ian Munro and to be able to call him my true mentor and friend. Thank you, Ian, for looking after me and many others who came across you. Ian – you are rightly regarded as the Father of Synchrotron Radiation in the UK and will be remembered so for many years to come.
References
Bordas, J., Munro, I. H. & Glazer, A. M. (1976). Nature, 262, 541–545.
Huxley, H. E. & Holmes, K. C. (1997). J. Synchrotron Rad. 4, 366–379.
Munro, I., Pecht, I. & Stryer, L. (1979). Proc. Natl Acad. Sci. USA, 76, 56–60.
Samar Hasnain is Max Perutz Professor of Molecular Biophysics at the University of Liverpool, UK, and was Editor-in-Chief of IUCr Journals from 2012 to 2018.
11 November 2022
Copyright © - All Rights Reserved - International Union of Crystallography
The permanent URL for this article is https://www.iucr.org/news/newsletter/volume-30/number-4/ian-munro-father-of-synchrotron-radiation-in-the-uk-25th-may-1937-22nd-september-2022