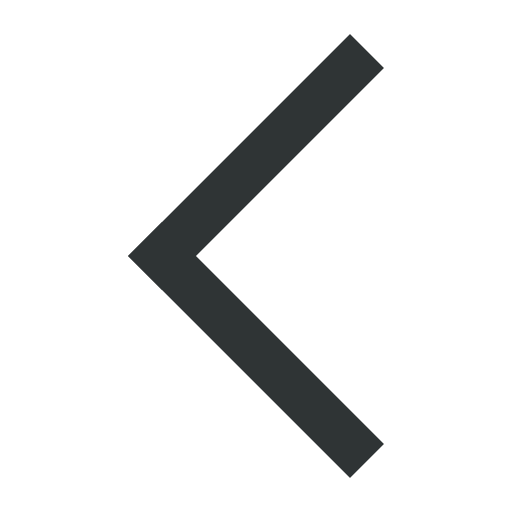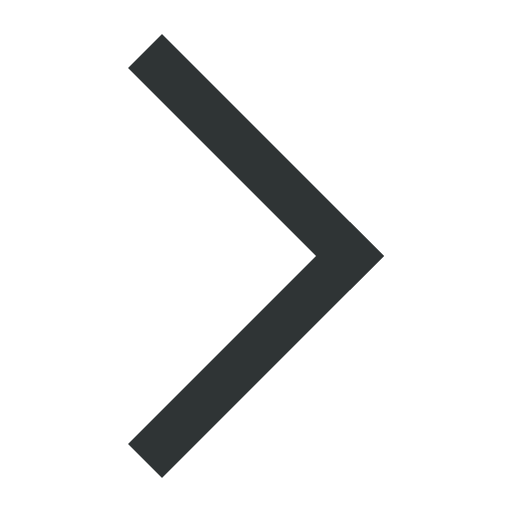 Meeting report (IUCr supported)
Seventh International School on Biological Crystallization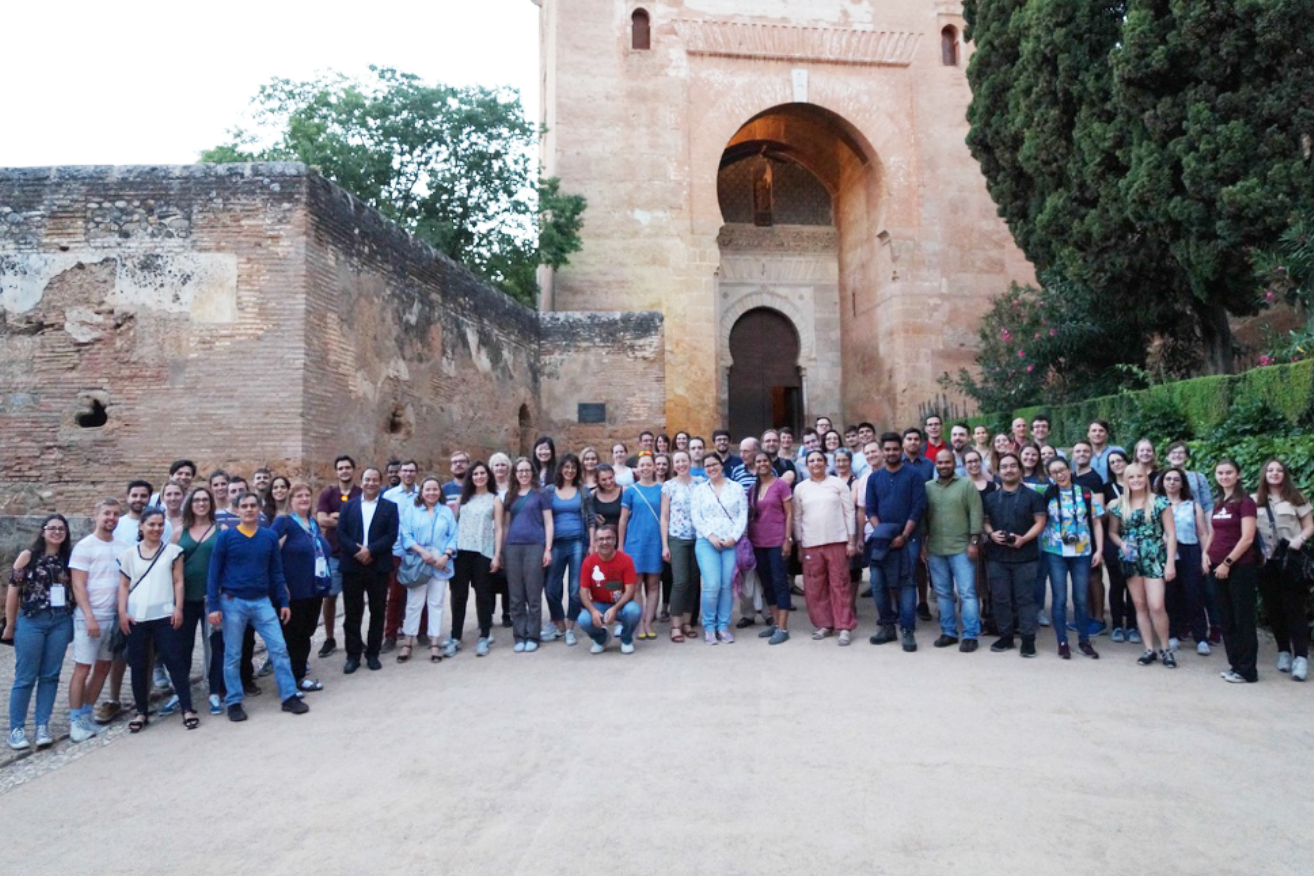 The Laboratory of Crystallographic Studies (CSIC-UGR) successfully organised the Seventh International School on Biological Crystallization (ISBC2019) on 26–31 May 2019 in Granada, Spain, under the auspices of the IUCr through its Commissions on Crystal Growth and Characterization of Materials, Biological Macromolecules and Crystallographic Teaching, with the support of the International Doctoral Summer School Programme of the School of Science, Technology and Engineering of the University of Granada, the Spanish Royal Society of Chemistry and the Spanish Specialized Group of Crystallography and Crystal Growth.
As in previous years, the event took place downtown in the beautiful city of Granada. The school attracted the interest of postgraduate/postdoctoral students as well as research scientists from industry and academia who routinely deal with crystallization processes but seek fundamental knowledge on the crystallization phenomena and the behaviour of crystallizing solutions. The students came to Granada to learn from top quality international speakers, hear case study presentations, watch practical hands-on demonstrations and present their research in poster sessions.
During the five-day school, several subjects related to the field of the crystallization of biological macromolecules were covered including hot topics such as crystallization of large crystals for neutron diffraction, tiny crystals for XFEL studies and the crystallization of membrane proteins and large macromolecular complexes. As in previous years, the demonstrations fair was very successful with much positive feedback from many participants. The two round-table discussions were also highly appreciated among tutors, academics, students and industrial representatives.
Attendance
The turnout of the school was excellent having a total of 96 participants from 20 different countries, most of which were students (51), speakers (28) and academics (10), the rest being industrial representatives and exhibitors. The participants were supported by a team of 15 people from the organization.
A considerable effort was made to provide financial support to as many students as possible. All 30 applicants were awarded a bursary to attend the school, including all of the students travelling from outside Spain.
Programme
Monday started with an introduction to the school and was fully dedicated to explaining the whole process of crystallization "From solution to protein crystals", from the purification and preparation of protein solutions to the basic concepts of crystallization, nucleation, phase diagrams, crystal growth kinetics and different crystallization techniques.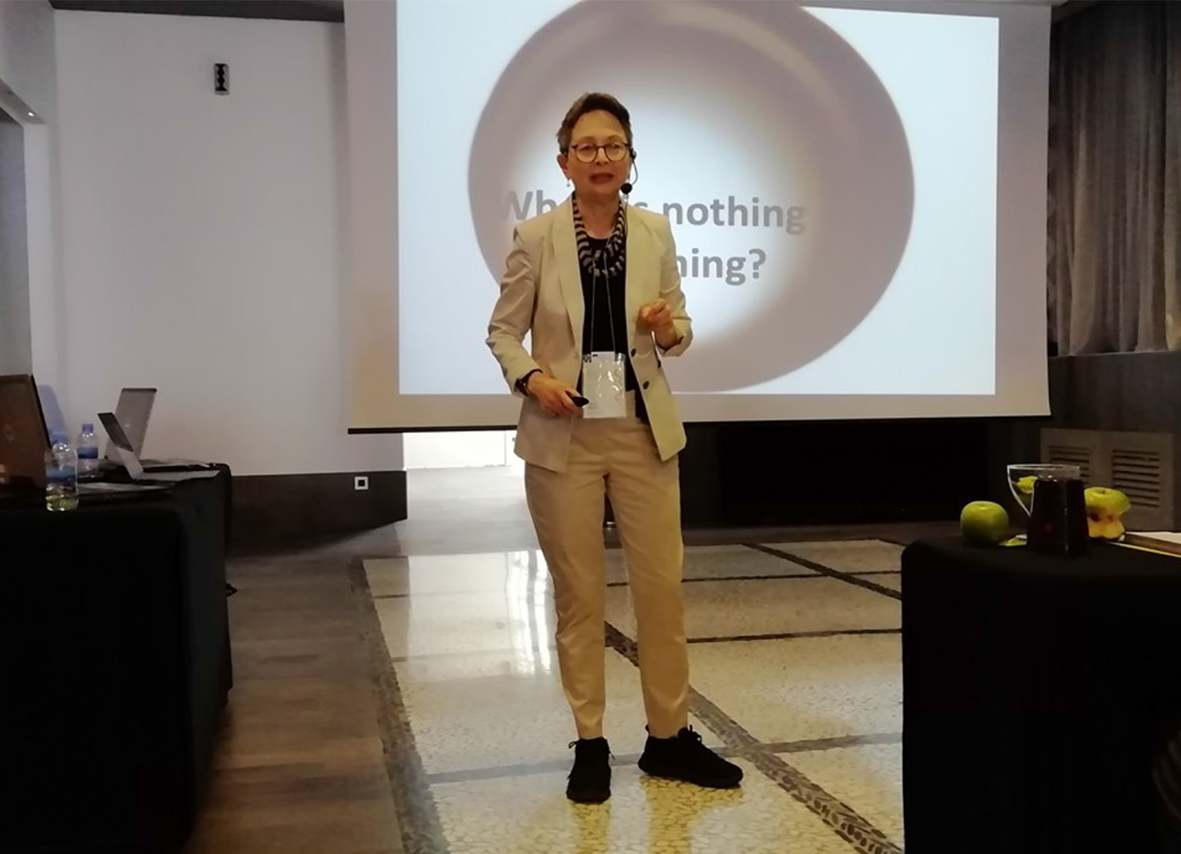 Terese Bergfors explaining how to interpret crystallization results.
Tuesday was devoted to special hot topics including femtosecond crystallography, microseeding, microfluidics, how to grow crystals for neutron diffraction, and the crystallization of membrane proteins and large macromolecular complexes. On Wednesday there were sessions on especially relevant topics such as optimization of crystal growth for neutron diffraction, SAXS, EM etc.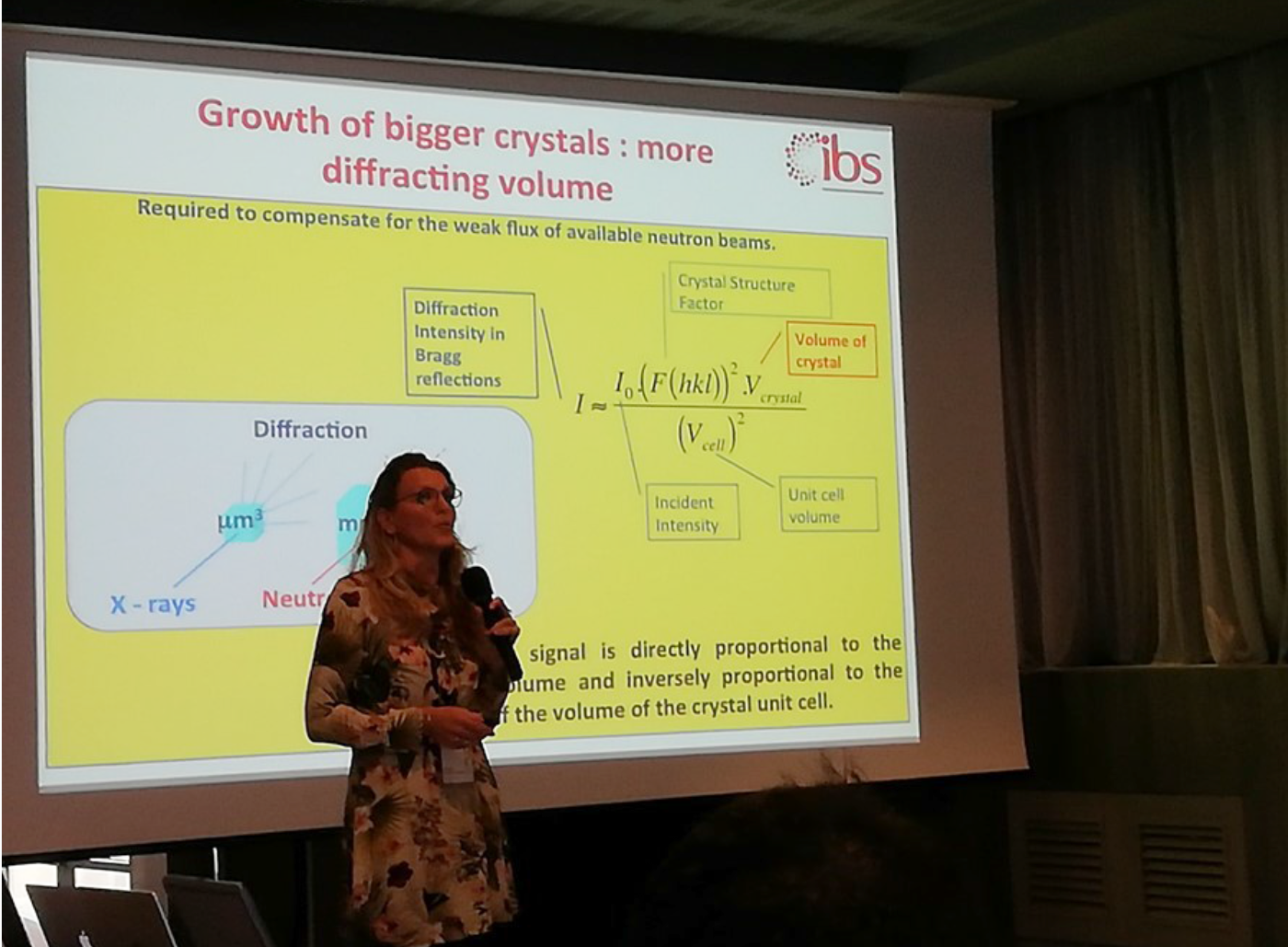 Monica Budayova explaining how to optimize crystal growth for neutron macromolecular crystallography.
Thursday was dedicated to the very popular demonstrations fair, at which specialists offered 21 short (20–40 minute) practical sessions at scheduled times. Participants were free to choose which sessions to attend so that they selected their own learning programme a la carte. The demonstrations fair proved to be an excellent teaching tool as it provided students with plenty of opportunities to interact on a personal basis with the teachers and to watch closely how to perform crystallization experiments. The last day of the school had two round-table discussions, the first on convergent techniques, including diffraction, XFEL, micro-ED, SAS, NMR, cryo-EM and the future of protein crystallization, the second on publishing results.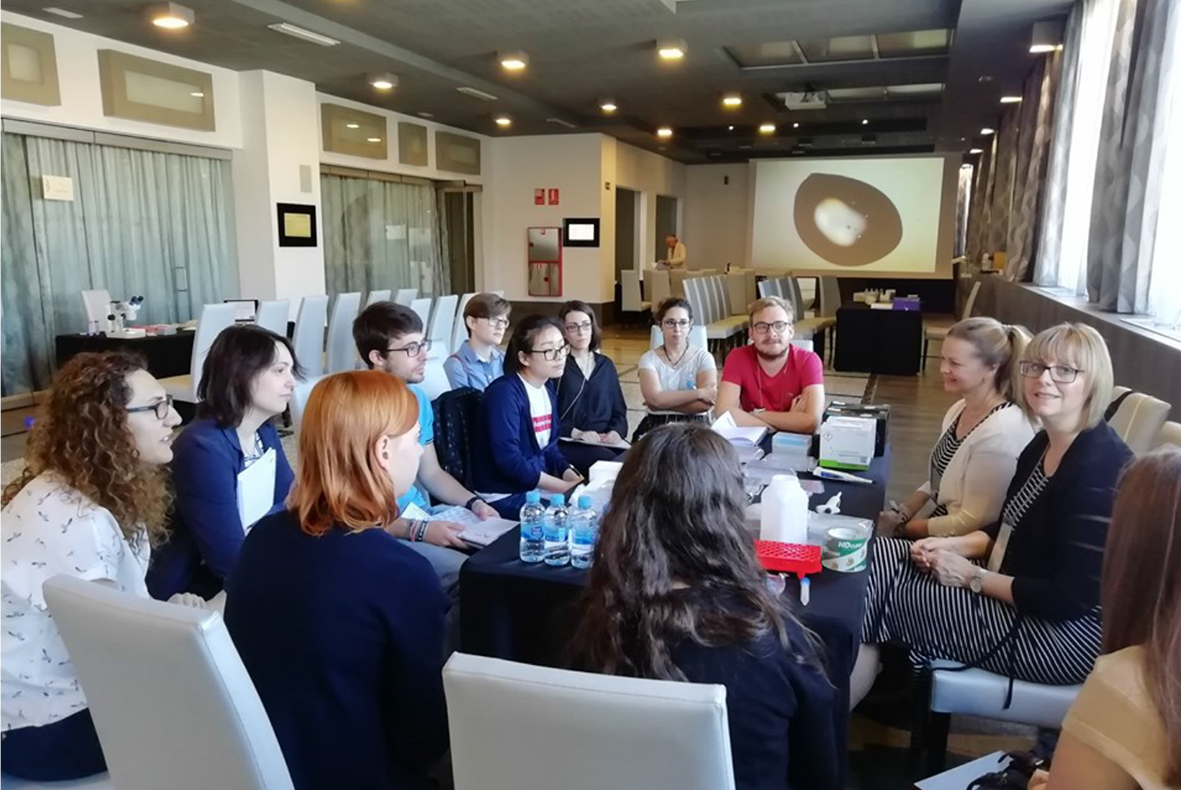 Ivana Kuta Smatanova (second from right) and Pavlína Řezáčová (right) showing the students how to perform vapour-diffusion (hanging and sitting drops) experiments.
There were poster sessions on Monday, Tuesday and Wednesday, which proved to be very valuable, allowing discussion of scientific work. The poster winners (see Table 1), selected by an international panel of lecturers composed of Bernhard Rupp, Abel Moreno and Claude Sauter, gave a 5-minute presentation on Friday morning.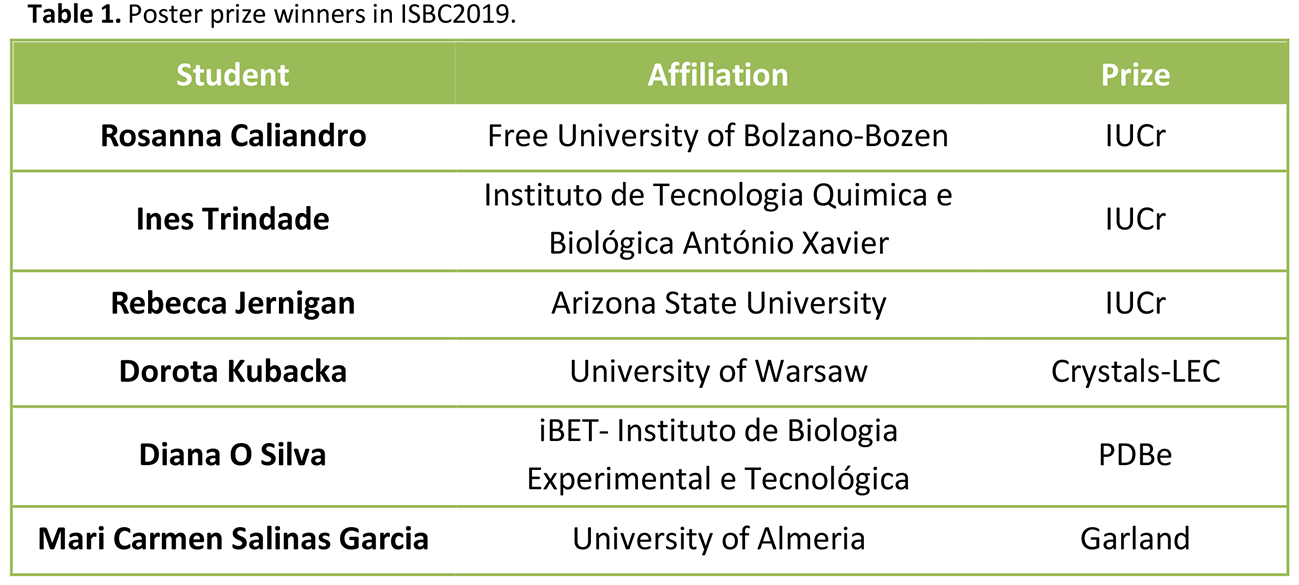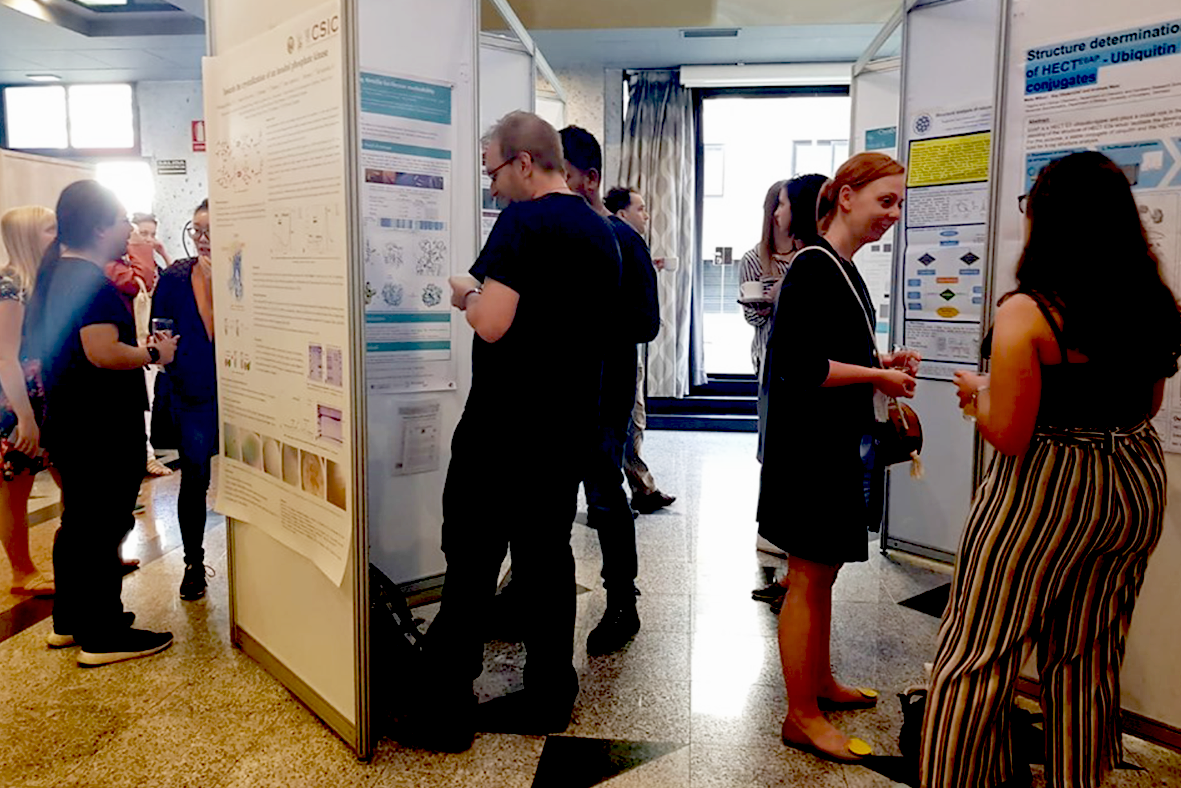 One of the lively poster sessions during ISBC2019.
Social events
In addition to the scientific course, there was a parallel social programme, which consisted of welcome cocktails on Sunday, a night tour of the Moorish gardens of the Alhambra on Tuesday and Wednesday, and a Flamenco dinner party on Thursday in the traditional district of Albayzin, which is renowned worldwide for its flamenco music.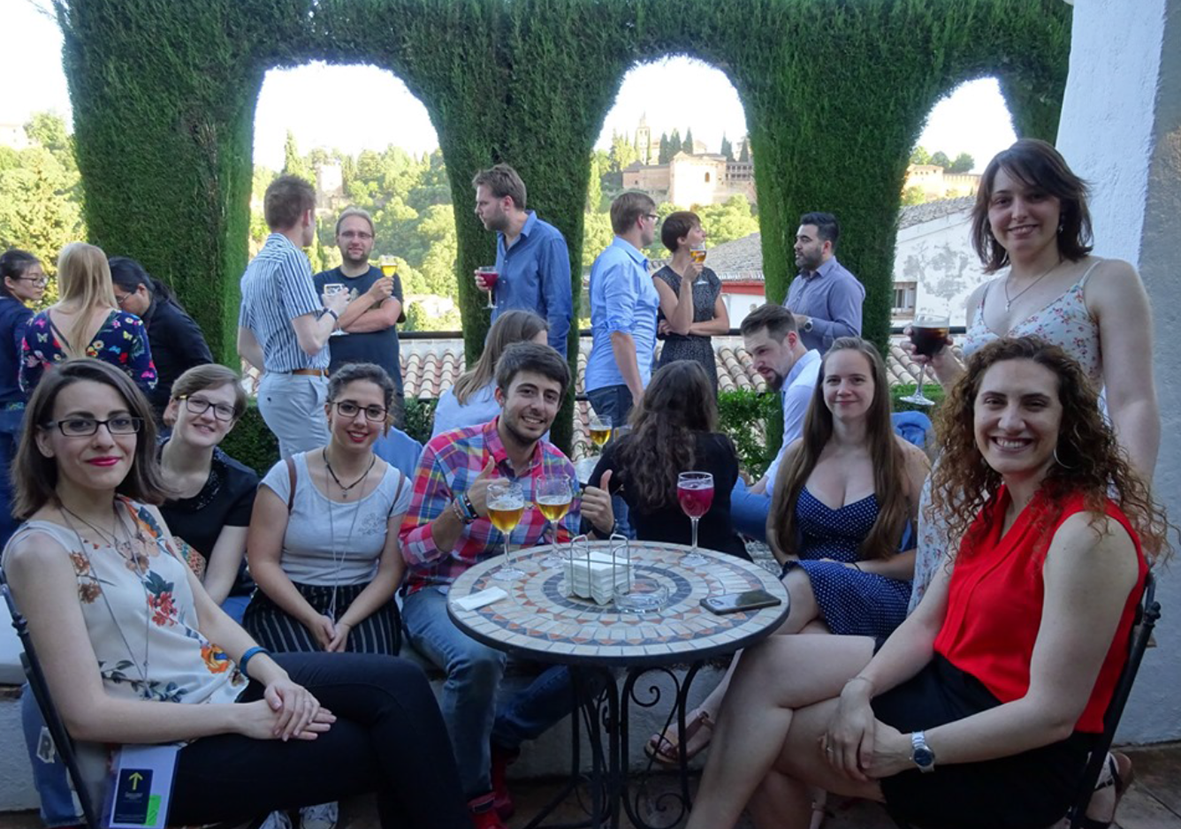 The Flamenco party on the Thursday evening.
Final notes
All in all, ISBC2019 was an enriching experience for all of those involved, triggering many fruitful scientific discussions. The positive approach, openness and active participation of each participant made it a wonderful experience that would be worthwhile to repeat in the future.
Finally, we would like to express our gratitude to all participants: the teachers for their full commitment and the students and colleagues from academic and industrial backgrounds for believing in these crystallization schools. We also wish to express our heartfelt thanks to the committee for their essential contribution to the success of the school. Last but not least, we would also like to express our gratitude to the sponsors and exhibitors for their great support.
23 September 2019
Copyright © - All Rights Reserved - International Union of Crystallography
The permanent URL for this article is https://www.iucr.org/news/newsletter/volume-27/number-3/7th-international-school-on-biological-crystallization