Awards and prizes

Arianna Lanza wins fourth PANalytical Award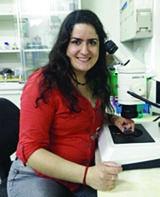 Arianna Lanza, winner of the fourth PANalytical Award.
The annual award recognizes innovative X-ray analytical research by young scientists. The PANalytical Award 2015 has been won by Arianna Lanza. She is affiliated to the Dept. of Chemistry and Biochemistry of the U. of Bern (Switzerland) and to the Swiss Light Source, Paul Scherrer Institute, in Villigen (Switzerland) and is currently finalizing her PhD. Her article about the dynamic behavior of a flexible and porous metal-organic framework was highly rated by all six members of the selection committee. They were impressed by the convincing and original results, which open the way to even more exciting possibilities in designing metal-organic frameworks. Ms Lanza's high competence and confidence in X-ray analysis and her scientific leadership were emphasized by the jurors, all leading experts in their fields. The winning article was selected from a record number of more than 90 contributions.
Arianna Lanza, and her co-authors Luzia S. Germann, Martin Fisch, Nicola Casati and Piero Macchi, were delighted by the good news. Arianna received the PANalytical Award at this year's Meeting of the European Crystallographic Association (ECM30) in Basel at the end of August where she presented her work to the professional community. More details about the award-winning article and its author can be found at www.panalytical.com/News/Winner-of-the-fourth-PANalytical-Award-Arianna-Lanza.htm.
PANalytical, a supplier of analytical X-ray instrumentation and software, seeks to reward early-career scientists who have demonstrated innovative thought to their research when using an X-ray analytical technique with a €5,000 prize. There are no restrictions on the manufacturer of the laboratory X-ray equipment that was used.
The PANalytical Award 2016 is now open for submissions. Applicants must publish a paper in print during the period 1 January 2015 until 1 December 2016 that demonstrates groundbreaking thinking in a topical field and required the use of a laboratory X-ray diffraction, X-ray fluorescence or X-ray scattering instrument as the primary analytical technique. The prize will be decided by a selection committee that includes established research scientists unaffiliated to PANalytical.
Applying for the award is easy via www.panalytical.com/award, with a closing date of 1 December 2016. Correspondence or questions about the award can be addressed to award@panalytical.com.
16 December 2016